Qiancheng Furniture, a prominent furniture brand, and enterprise based in Foshan, has been specializing in OEM (Original Equipment Manufacturer) and ODM (Original Design Manufacturer) home furniture for over 13 years. With a focus on delivering high-quality products, the company has gained a reputation for its exceptional craftsmanship and innovative designs. Qiancheng Furniture takes pride in its extensive range of offerings, which include dining furniture that boasts cutting-edge technology and captivating designs. This blog will delve into the key aspects of Qiancheng Furniture, highlighting its commitment to excellence and its impact on the furniture industry.
Innovative Designs and Patents
Qiancheng Furniture stands out in the market with its impressive collection of over 200 original design patents. These patents are a testament to the company's dedication to innovation and its ability to create unique and captivating furniture pieces. By consistently introducing three new series every month, Qiancheng Furniture ensures that customers have access to the latest designs that align with contemporary trends. This commitment to staying ahead of the curve has established the brand as a trendsetter in the industry.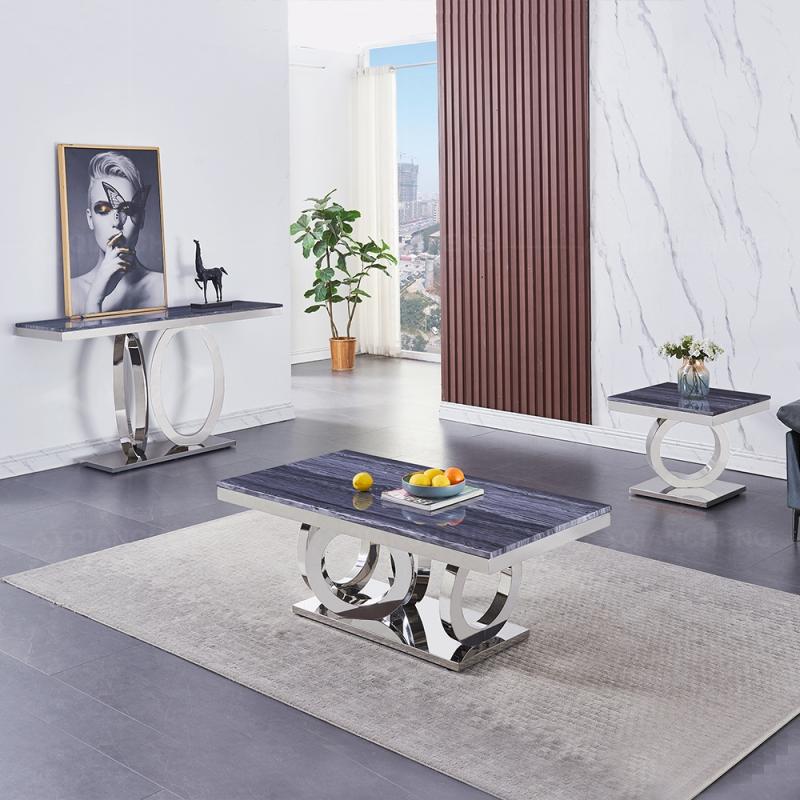 Leading Technology and Craftsmanship
One of the strengths of Qiancheng Furniture lies in the production of its dining furniture. The company's technology and craftsmanship are at the leading level. Qiancheng Furniture adopts advanced manufacturing technology and the most advanced equipment. The catering furniture produced not only exhibits excellent quality, but also incorporates innovative functions. The focus on technological advancement has allowed the brand to create furniture that is not only beautiful but also functional and durable.
Customization and Inspection Services
Qiancheng Furniture understands the importance of meeting customer expectations and offers high-quality sample customization services. This allows customers to personalize their furniture according to their specific requirements, ensuring that their individual tastes and preferences are catered to. Moreover, Qiancheng Furniture prides itself on its 100% inspection service, which guarantees that every product leaving the factory meets the highest standards of quality. This meticulous approach to quality control further reinforces the brand's commitment to customer satisfaction.
Expansive Production Capacity
Spanning an impressive 23,000 square meters of factory area, Qiancheng Furniture boasts a robust production infrastructure. The company has more than 200 skilled workers and more than 13 years of experience. 1,200 containers are produced per year, each holding 40 HQ units. This level of production demonstrates the brand's ability to meet domestic and international market demand. To ensure timely delivery of furniture products to its valued customers.
Corporate Culture and Values
Qiancheng furniture is driven by the corporate culture of healthy life, efficient work practice and pursuit of excellence. The company's mission is to provide customers with a variety of light luxury quality home life at a lower cost. Let them enjoy a comfortable and beautiful living environment. Qiancheng Furniture is determined to become the world's most reliable light luxury furniture enterprise. Uphold the values of continuous innovation, employee benefits, and creating value for society.
Notable Achievements and Honors
Qiancheng Furniture's commitment to excellence and customer satisfaction has earned the company numerous accolades and certifications. As a high-tech enterprise, Qiancheng Furniture demonstrates its corporate strength, R&D design tax ability, and national certification. Additionally, the brand is recognized as a five-star merchant on Alibaba's international site and has received awards such as the Credit Insurance Pioneer Award and the High-Quality Supplier title. These achievements validate Qiancheng Furniture's reputation as a trusted and reliable furniture manufacturer.
Business and Retail Management: Foshan OEM/ODM Restaurant Furniture Manufacturer
1. Dining Room Furniture: Exquisite Designs for a Memorable Dining Experience
1.1 Dining Table: The Heart of the Dining Area
Qiancheng Furniture provides a wide selection of dining tables, designed to elevate the ambiance of any restaurant. From sleek and modern designs to classic and elegant styles, these tables are crafted with attention to detail, using premium materials to ensure durability and longevity.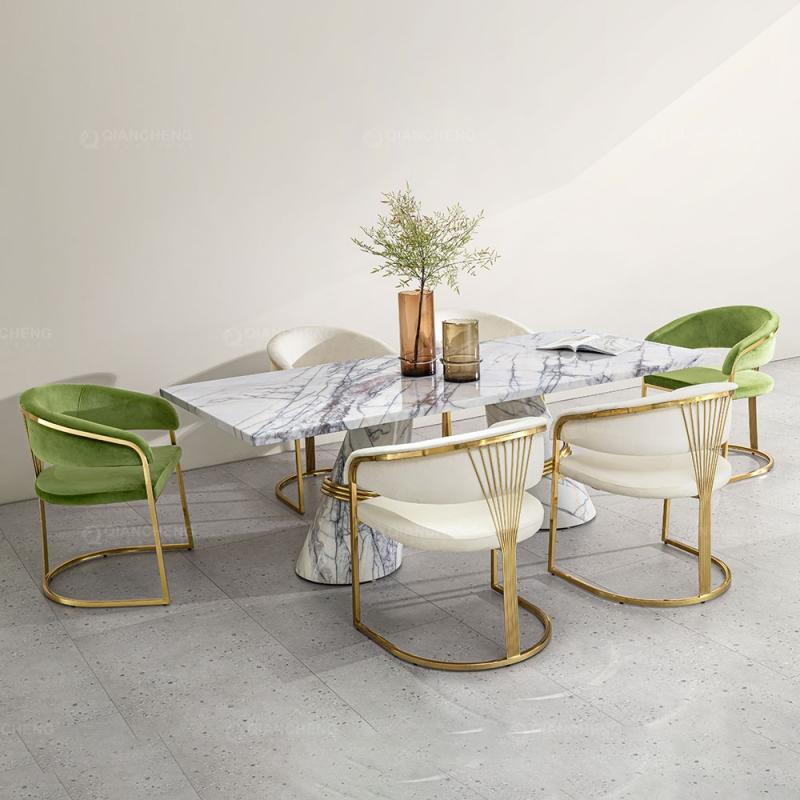 1.2 Dining Chair: Comfort and Style Combined
To complement their dining tables, Qiancheng Furniture offers an array of dining chairs that prioritize both comfort and style. These chairs are carefully crafted to provide ergonomic support while enhancing the overall aesthetic of the dining area.
1.3 Dining Table Series: Coordinated Sets for a Harmonious Look
For restaurant owners looking for a uniform look. Qiancheng Furniture has launched a dining table collection, including matching tables, chairs and other accessories. These series offer a range of design options. It enables enterprises to create a harmonious and warm dining environment consistent with their brands.
1.4 Sideboard Cabinet: Functionality and Storage Solutions
To optimize storage space and add functional elements to the dining area, Qiancheng Furniture manufactures sideboard cabinets. These cabinets provide a stylish solution for storing tableware, linens, and other essentials, helping restaurants maintain an organized and efficient service.
2. Living Room Furniture: Enhancing Comfort and Ambiance
2.1 Coffee Table: The Centerpiece of the Living Room
Qiancheng Furniture's collection of coffee tables showcases diverse styles and materials, catering to the various themes and atmospheres of restaurants. Whether it's a contemporary design or a rustic piece, these coffee tables add a touch of elegance and functionality to the living room area.
2.2 Side Table: Practicality Meets Style
To provide convenient surfaces for guests to place their drinks, magazines, or personal belongings, Qiancheng Furniture produces an assortment of side tables. These compact and stylish pieces offer versatility and serve as valuable additions to any restaurant's seating area.
2.3 TV Stand: Entertainment and Organization
As restaurants increasingly incorporate televisions into their spaces, Qiancheng Furniture offers TV stands that combine practicality and aesthetics. These stands not only support screens securely but also provide storage compartments for media equipment and accessories, contributing to an organized and visually appealing living room setup.
2.4 Console Table: Adding Elegance and Functionality
Console tables from Qiancheng Furniture are designed to enhance the ambiance and functionality of restaurant living rooms. These slim and stylish tables serve as a platform for decorative items or additional storage, allowing restaurants to showcase their unique style while maximizing space utilization.
2.5 Leisure Chair: Comfortable Seating for Relaxation
Qiancheng Furniture's leisure chairs are carefully crafted to provide optimal comfort for guests. With a focus on ergonomics and aesthetics, these chairs offer a cozy seating option for patrons looking to unwind and enjoy their dining experience in a relaxed setting.
Conclusion
In conclusion, Qiancheng Furniture, a leading OEM/ODM restaurant furniture manufacturer based in Foshan, stands out in the industry with its focus on innovation, craftsmanship, and customer satisfaction. With a wide range of products, cutting-edge technology and the pursuit of excellence. Qiancheng Furniture has consolidated its position as a trusted luxury furniture company. Qiancheng Furniture constantly pursues customer value, cultivates employee benefits, creates value for the society, and shapes the future of the furniture industry.