Customers can find the greatest tables and chairs at Qiancheng.
With the greatest in both quality and design, Qiancheng Furniture is a model of excellence in the field of tables and chairs. Each product by Qiancheng, a company renowned for our uncompromising attention to workmanship, is a monument to the artistry and passion of its talented artisans. Every consumer may discover the ideal furniture items to match their preferences and home décor thanks to our wide selection of products, which spans various styles, materials, and patterns. Our commitment to personalization is what makes Qiancheng stand out. We collaborate closely with clients to bring ideas to life by customizing tables and chairs to exact measurements, finishes, and designs. Each product will meet and surpass consumer expectations thanks to this degree of personalization.
Our source materials are ethical and uphold strict environmental standards throughout our manufacturing processes, strongly emphasizing sustainability and eco-friendly practices. By doing this, we provide ecologically aware consumers with more than simply tables and chairs—we also provide them peace of mind. Ultimately, we continually commit to loyal customers to offer the greatest tables and chairs.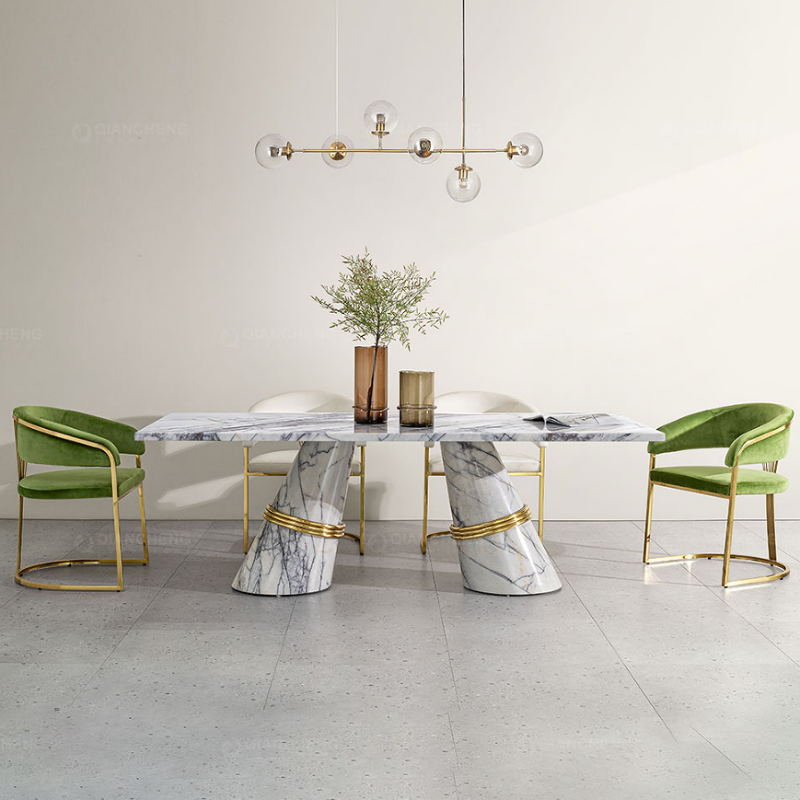 Qiancheng Furniture: Setting the Standard as the Premier Table and Chair Supplier in the Furniture Industry
Finding a trustworthy and excellent supplier is crucial for businesses looking to provide our consumers with high-quality goods in the always-changing furniture production world. In the sea of possibilities, Qiancheng Furniture has distinguished itself as a leader and a benchmark of quality in the furniture sector. We have established a solid name as the best table and chair supplier in the sector because of our long history and dedication to quality, innovation, and client happiness. In this blog article, we'll explore the causes of Qiancheng's exceptional performance and why it stands out as an industry pioneer.
The secret to Qiancheng's success is their unwavering commitment to quality and workmanship. We are aware that the furniture market requires goods that are both visually beautiful and constructed to last a long period. Each table and chair are expertly crafted by professional artisans and craftsmen at Qiancheng Furniture. Because of our dedication to excellent craftsmanship, each item we create is a work of beauty.
The wide variety of products offered by Qiancheng is one of our distinguishing qualities. We provide tables and chairs for various styles, materials, and designs. We offer everything you need, whether you're searching for traditional hardwood dining sets, cutting-edge metal and glass designs, or custom-made items. Due to the variety, businesses may discover the ideal match for our clients' tastes and interior design.
We provide customizable choices since we understand that every customer can have different demands and preferences. We collaborate closely with our customers to realize their design ideas, customizing the size, style, and finish of the tables and chairs. This degree of adaptability distinguishes them and enables companies to provide clients with tailored solutions.
We are dedicated to eco-friendly and sustainable practices in a time of rising environmental awareness. Responsible material sourcing allows us to produce goods that adhere to high environmental standards. Our commitment to sustainability at Qiancheng extends to our production procedures, waste reduction strategies, and recycling initiatives, making them an ethical alternative for companies trying to reduce our environmental impact.
Qiancheng: Your Go-To Destination for Top-Quality Tables and Chairs
As the Best table and chair supplier in the market, Qiancheng Furniture has triumphed in the cutthroat world of furniture production. We stand out as the ideal option for companies looking for a dependable partner in the furniture sector, guaranteeing that consumers get nothing less than the finest in tables and chairs.
Traditional workmanship is valued by Qiancheng Furniture, but we also use cutting-edge technology to improve our goods. Furniture made as a consequence of this blend of history and innovation is visually beautiful and technologically sophisticated. We always remain on top of things by introducing clever features, ergonomic designs, or precise production.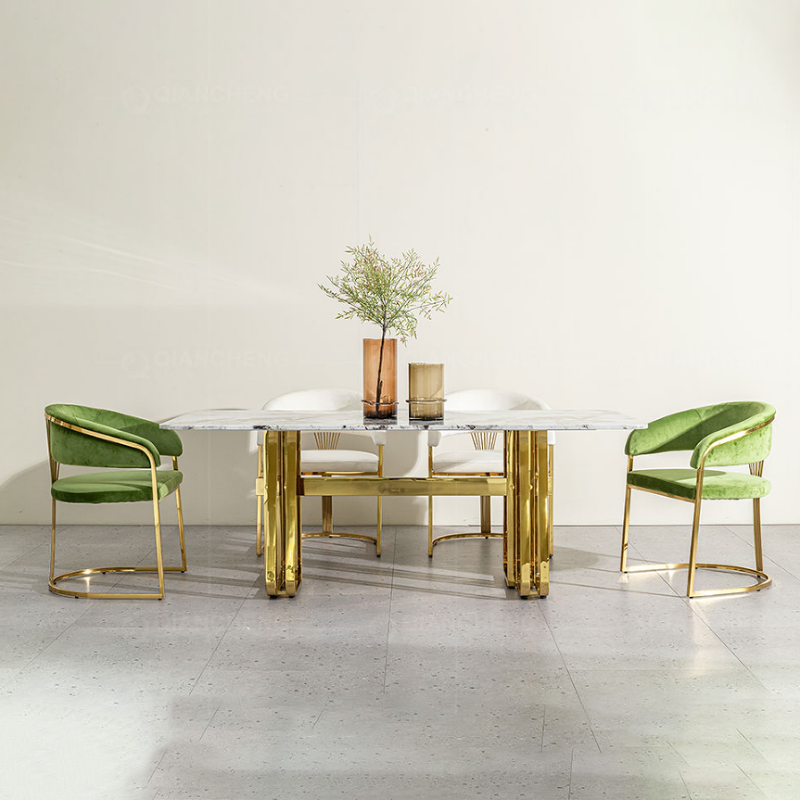 In the furniture business, affordability plays a big role, and Qiancheng is aware of this. Despite having a reputation for high quality, we provide affordable pricing that caters to a variety of company types. Businesses can retain strong profit margins while providing customers with outstanding value because of this harmony between quality and price.
The influence of Qiancheng Furniture goes well beyond its native location. We now have a widespread presence and work with clients and companies in many nations. Our capacity to satisfy various market demands and adjust to various cultural preferences is well demonstrated by our global presence.
Timely and Dependable Delivery
Dependability is essential in the furniture sector, where fulfilling delivery dates is extremely important. For its dependability and promptness in fulfilling orders, Qiancheng Furniture has established a strong reputation. Businesses may keep their promises to clients by knowing our items will arrive on time.
Excellent Customer Service
The success of Qiancheng Furniture is largely due to our outstanding customer service. Our committed and professional staff is constantly prepared to answer customer questions, offer advice, and guarantee a simple purchasing procedure. This dedication to client happiness generates enduring connections and establishes trust.
The brilliance of Qiancheng Furniture has not been ignored by organizations and industry professionals. We have won several prizes and recognition for our creative ideas, superior goods, and dedication to sustainability. This honor demonstrates our constant commitment to quality.
Conclusion:
Are you sick of looking in all the wrong places for high-quality tables and chairs that look amazing and provide excellent comfort and durability? QIANCHENG, the Best table and chair supplier, is the only place to look for all your furniture needs. We are the best option for enhancing your home or workplace space because we offer a huge range of exquisite tables and chairs.