Why Pick Qiancheng for Your Project Among Top Dining Furniture Manufacturers?
For your best dining furniture manufacturers, crucial to select a supplier who you can trust and who has experience in the field. We can provide you with top-notch goods and first-rate services. This is where Qiancheng, a renowned OEM and ODM top dining furniture manufacturers, steps in. Since its founding 13 years ago, Qiancheng has positioned itself as a distributor emphasizing creating superior dining furniture. They have developed a reputation as a trustworthy partner for clients worldwide. The following are some justifications for choosing Qiancheng for your upcoming dining furniture project:
Qiancheng has over 100 original design patents, which help distinguish its goods from competitors' offerings. These designs were created to consider the most recent industry trends and the constantly shifting demands of consumers.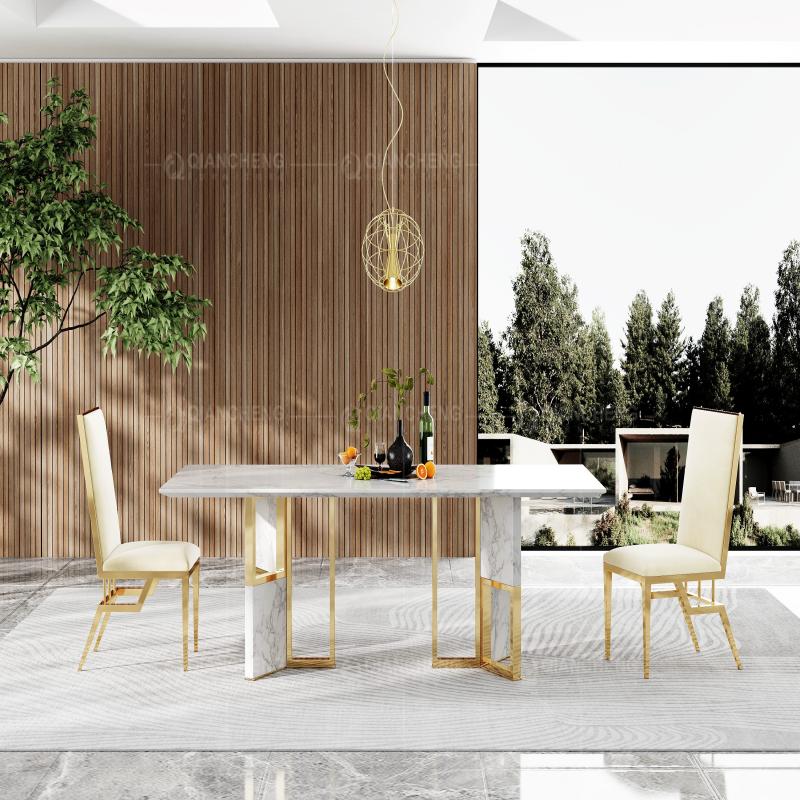 Freely 3D Max architectural design:
3D Max structural design services are offered free of charge by Qiancheng. Before manufacturing, allow buyers to see their items. This guarantees that the finished product satisfies the criteria and standards.
As part of its stringent quality control system, Qiancheng offers a 100% inspection service. Before shipment, they evaluate each item to ensure it satisfies the client's needs and exceeds their expectations.
Regenerating product lines:
Every month, Qiancheng introduces three new product series. Demonstrating its dedication to innovation and staying current with fashion.
Qiancheng has a track record of making deliveries on time. We have a penalty agreement and recognize the value of on-time delivery.
Free Trials and Product Architecture:
Qiancheng gives away free samples to customers so they may try the goods before buying them. To assist clients with their branding requirements, we also provide complimentary product and packaging design services.
Qiancheng offers its customers 24-hour online service. All concerns are immediately fixed because of their effective customer support service, which replies to consumer inquiries within 30 minutes.
The leading producer of dining room furniture is Qiancheng:
One brand stands out above the others in the dining room furniture world, Qiancheng. With a history spanning several decades, Qiancheng has distinguished itself as a premier producer of dining furniture, renowned for its dedication to quality, innovation, and customer satisfaction.
A dedication to excellence:
Its uncompromising dedication to quality is one of the main factors contributing to Qiancheng reputation as a leading producer of dining furniture. Every stage of the manufacturing process, from the choice of quality raw materials to the subtleties of craftsmanship, is carried out with accuracy and attention to detail. The company uses cutting-edge equipment and talented artisans to produce elegant, durable furniture that adheres to the highest international standards.
In the dining furniture world, Qiancheng has continually pushed the envelope regarding inventiveness and design. The company's in-house staff of brilliant designers works relentlessly to produce furniture that combines modern aesthetics with classic beauty. Qiancheng product line accommodates a variety of interests and preferences, whether it is a traditional dining set or a contemporary minimalist table, making it a top pick for clients worldwide.
With a wide assortment of dining furniture to match different styles and settings, Qiancheng takes pride in its broad product line. The brand provides options for every situation, from opulent formal dining sets that convey grandeur to small dining solutions ideal for urban life. The variety of materials, finishes, and combinations available to customers ensures they discover the ideal furniture to match their home design.
Eco-friendliness and sustainability:
Qiancheng prioritizes environmental responsibility and sustainability as a good corporate citizen. To reduce its carbon footprint, the firm is dedicated to procuring materials from environmentally conscious suppliers and using eco-friendly production techniques. By upholding sustainable methods, Qiancheng not only promotes a healthy earth but also draws in customers who are concerned about the environment and want to buy goods that have a beneficial effect on it.
Above all, Qiancheng credits its commitment to client pleasure with helping it become the leading maker of dining furniture. Every choice the business makes is centered on its consumers. Qiancheng provides a flawless and enjoyable client experience, from pre-sales support and individualized design consultations to rapid after-sales service. This focus on the customer's demands has led to devoted clients picking Qiancheng for their dining furniture requirements.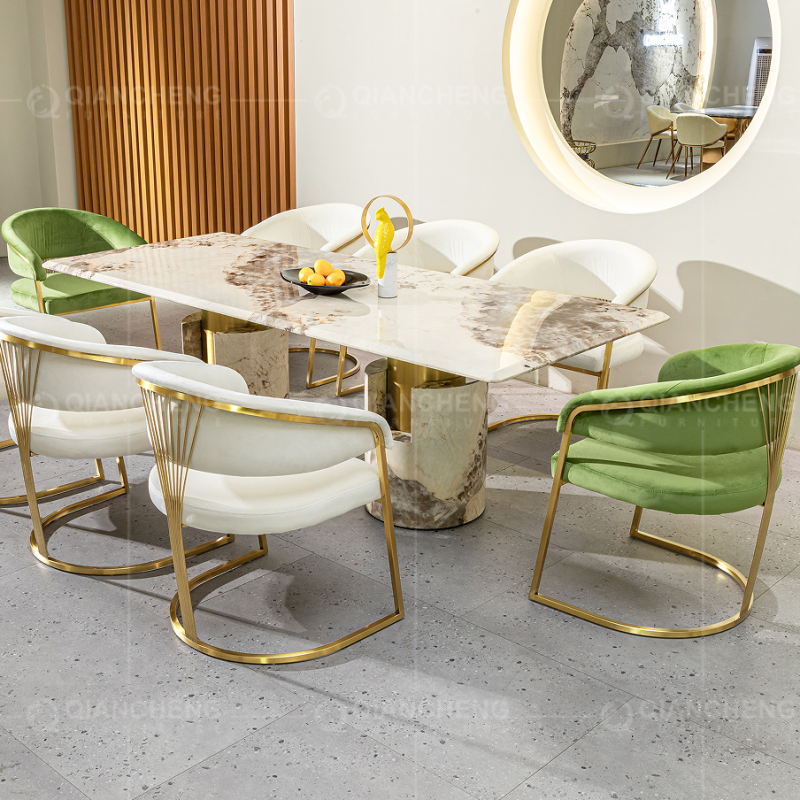 Exploring QIANCHENG: A Leading Manufacturer in the Dining Furniture Industry:
We suggest completing an online search or consulting reputable business directories, industry publications, or news sources to provide you with the most precise and up-to-date information. Include details about Qiancheng background, offerings, production sites, client feedback, and any awards or certifications they may have won. When researching them, it's also crucial to think about a company's reputation, product quality, production methods, customer service, and ethical standards. Additionally, watch for any recent company-related news or developments, as they might shed light on the company's present position in the dining furniture sector.
Why Do So Many People Choose The QIANCHENG Top Dining Furniture Manufacturers?
Using as the main material, the top dining furniture manufacturers is Qiancheng. It is renowned for its longevity, corrosion resistance, and maintenance ease. The exceptionally sturdy construction of this furniture allows it to survive extensive usage and damage. Additionally, it is stain-resistant, making it perfect for high-traffic areas. It is simple to clean and preserve this furniture. It is cleanable with a cloth and immune to most chemicals and cleaning solutions. Modern, sleek dining room furniture blends nicely with current and minimalist design aesthetics.
Conclusion:
A tribute to QIANCHENG constant dedication to quality, cutting-edge designs, and client pleasure is the company's rise from a specialized family business to the leading producer of dining furniture. Qiancheng continues to set the bar for quality in the dining furniture sector because broad product offering and emphasis on sustainability. Qiancheng is still the go-to brand for exceptional dining furniture that embodies elegance. We have our equipment, methods, and a specialized material supply chain that can assist you in cutting costs while maintaining quality and on-time delivery.