The dining table chairs come in various designs, sizes, and colors, allowing customers to choose the perfect setting according to their needs. The significant advantages of stainless steel chairs is their resistance to rust, stains, and corrosion, which suitable for outdoor use as well. No matter in which kind of living environment, QIANCHENG's dining tables and chairs can keep good situation for many years.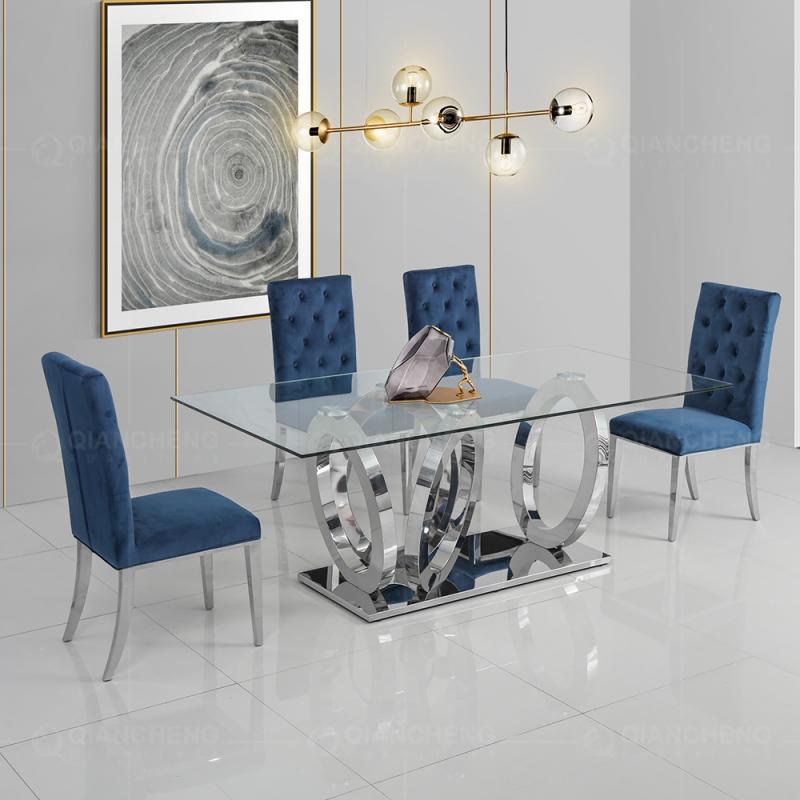 These QIANCHENG Stainless Steel Dining Table Chair Are Perfect For Comercial Spaces
When it comes to use in commercial spaces, it's important to choose furniture that is practical and stylish. That's why more and more business buyers are turning to QIANCHENG for their stainless steel dining table and chair needs. As a wholesaler, QIANCHENG specializes in producing high-quality metal furniture which is perfect for commercial spaces like restaurants, hotels, and offices.
QIANCHENG's products are making of durable and long-lasting materials. Unlike some other dining chairs on the market that may be made from cheaper materials like wood or iron, these chairs are low quality. QIANCHENG chairs are made from high-quality stainless steel which is resistant to rust and corrosion. It is a very smart choice to cooperate with QIANCHENG for the business furniture investment.
If you're in the market for high-quality metal furniture for commercial space, QIANCHENG is definitely a company worth considering. With their focus on durability, functionality, and stylish design, their products are sure to meet the needs of various kinds of business.
QIANCHENG: Your Go-To Wholesaler for Stainless Steel Dining Table Chairs
If you are looking for a reliable wholesaler for your stainless steel dining table chairs. Look no further than QIANCHENG. With a commitment to quality and value, QIANCHENG is the perfect choice for stylish and durable furniture business at competitive prices.
At QIANCHENG, they specialize in the stainless steel dining room and living room furniture. Their range of products includes dining table chairs, TV stands, coffee tables, and more. Unlike many other furniture wholesalers, they use high-quality materials such as tempering glass, artificial marble, and sintered stone, making products more durable and long-lasting.
One of the key features of our products is their unique design. Their dining table chairs are made of stainless steel for a modern and sophisticated look. Their designs are also unique and stylish, making them ideal for both residential and commercial use.
Say Goodbye to Wood and Hello to Metal: QIANCHENG's Stainless Steel Dining Table Chair Collection
In recent years, the trend of using metal furniture in interior design has become increasingly popular. This is because metal furniture has many advantages over traditional wooden furniture. It is more durable, easy to clean, and can be customized to fit any design style.
China OEM Marble and Stainless Steel Dining Room Table Chairs
QIANCHENG is positioning itself as a wholesaler of high-quality metal furniture. Their products are designed and manufactured in Foshan, Guangdong, China. Their team has more than 13 years of experience in the furniture industry. The company offers a range of products that can be customized to your specific needs, including dining tables, chairs, coffee tables, and more.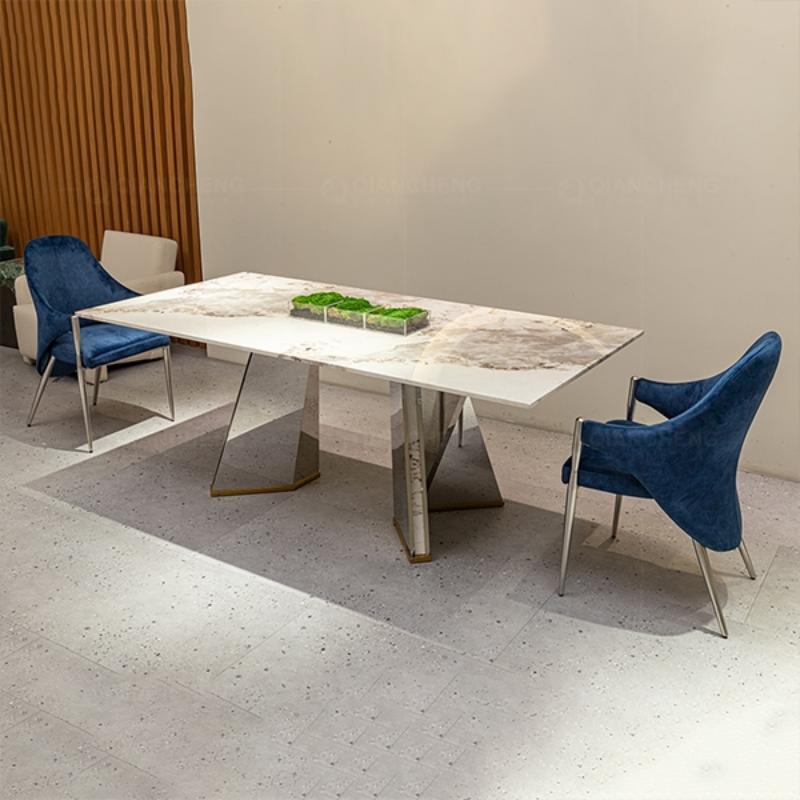 One of the outstanding products in the QIANCHENG collection is the China OEM Marble and Stainless Steel Dining Room Table and Chairs. This dining set is perfect for any dining room, restaurant, hotel, or villa. Its modern design style and stable features make it outstanding to any space.
QIANCHENG offers OEM/ODM services, which means they can customize the products to fit your specific needs. Whether you want a different color, size, or design, the team at QIANCHENG can work with you to create the perfect furniture piece.
Why Choose QIANCHENG for Your Stainless Steel Dining Table Chair Project?
When choosing a supplier for your stainless steel dining table and chairs project, it is important to choose a reliable and experienced partner. They can provide you with high-quality products and excellent service. That's where QIANCHENG comes in as a leading OEM and ODM stainless steel dining furniture manufacturer.
QIANCHENG has been in the business for 13 years, positioning itself as a wholesaler with a focus on producing high-quality stainless steel dining furniture. Over the years, they have built a reputation as a reliable partner for clients worldwide. Here are some reasons why QIANCHENG is the right choice for your next stainless steel dining table chair project:
1) 24/7 Online Service: QIANCHENG provides 24-hour online service to its clients. With an efficient customer support team who responds to customer inquiries within 30 minutes, they ensure that all issues are resolved promptly.
2) Original Design Patents: QIANCHENG has over 100 original design patents that ensure its products stand out in the market. These designs have been developed to meet the ever-changing needs of customers and the latest trends in the industry.
3) Renewing product lines: QIANCHENG launches three new series of products every month. Demonstrating its commitment to innovation and keeping up with the latest design trends.
4) Free 3D Max structural design: QIANCHENG provides free 3D Max structural design services. Let customers visualize their products before production. This ensures that the final product meets its specifications and requirements.
5) 100% Inspection Service: QIANCHENG has a strict quality control system, which includes a 100% inspection service. They inspect every product before shipping to ensure that they meet the client's requirements and exceed their expectations.
6) On-time Delivery: QIANCHENG has a reputation for delivering products on time. They understand the importance of timely delivery and have a penalty agreement in place for delays.
7) Free Samples and Product Design: QIANCHENG offers free samples to its clients, allowing them to test the product before placing an order. They also offer free product design and package design services to help clients with their branding needs.
Conclusion
QIANCHENG is an excellent choice for your next stainless steel dining table chair project. They have the experience, expertise, and resources to deliver high-quality products and exceptional services. Contact QIANCHENG today to get started on your next project.