Elegance and timelessness are two qualities that have always been highly valued in the world of interior design. Whether it's a classic Victorian mansion or a modern apartment, these qualities can make any space look luxurious and sophisticated. When it comes to furniture, few pieces embody elegance and timelessness like it. And Qiancheng is a perfect example of this. marble dining table.
1. Quality Materials for a Lasting Impression:
Qiancheng's wholesale marble dining tables boast a high-quality construction that is both aesthetically pleasing and built to last. The table and chair surfaces are primarily made of high-quality artificial marble materials, which provide a stunning marble pattern. This not only helps keep the cost down but also ensures a consistent appearance across multiple tables.
In addition to the marble-patterned surfaces, Qiancheng's dining tables and chairs feature a robust stainless steel framework. This metal structure ensures the durability and stability of the furniture. Making it ideal for dining room and living room arrangements. Moreover, the use of metal materials means that Qiancheng's products are eco-friendly, as they do not rely on wood resources.
2. Elegant Designs for a Timeless Appeal:
Qiancheng understands the importance of offering a range of designs to cater to different tastes and preferences. Their marble dining tables come in a variety of shapes, sizes, and patterns, ensuring customers can find the one that best suits their specific needs. Whether it's a round table for an intimate gathering, or a large rectangular table for a more formal event, Thousand City can meet your needs.
Exquisite details and seamless finishes reflect exquisite craftsmanship. Further enhancing the elegance and timelessness of the Qiancheng Marble Dining Table. Each piece is a testament to their dedication to quality and style.
3. A Reliable Partner for Your Business:
As a wholesale marble dining table manufacturer, Qiancheng is committed to providing valuable products and services to its clients. They offer competitive pricing and a comprehensive selection, making it easy for your projects. Choosing Qiancheng, you are partnering with a reliable manufacturer that values integrity, innovation, and customer satisfaction.
The Qiancheng marble dining tables are designed with a sleek and stylish aesthetic in mind. They are available in a variety of shapes and sizes, including round, rectangular, and square, allowing you to choose the table that best suits your needs.
The Qiancheng Marble Dining Table Collection
The Qiancheng Marble Dining Table collection offers a variety of designs, sizes, and shapes to suit any dining room. Here are some of their standout pieces:
1. Qiancheng Round Marble Dining Table: Perfect for smaller dining spaces or open floor plans, this round table features a stunning marble top and a sleek, minimalist base. Its design seamlessly integrates with modern or contemporary décor.
2. Qiancheng Rectangle Marble Dining Table: This classic rectangular table combines the beauty of marble with a sturdy stainless steel base, offering ample seating for larger gatherings.
3. Qiancheng Oval Marble Dining Table: For a softer look, the oval marble table is an elegant choice. Its smooth curves make it an ideal addition to any sophisticated dining room.
4. Qiancheng Customized: If you're looking for something more unique, this customized is a perfect choice. The solid marble top is complemented by a sturdy base to match personal taste and style.
Marble Dining Table: High-Quality China White & Gold Set For 6 Manufacturer
Qiancheng Furniture is a leading manufacturer of high-quality marble dining table sets based in Foshan, Guangdong, China. They specialize in creating contemporary white marble dining table sets that are perfect for modern dining rooms and are designed with stability and durability in mind.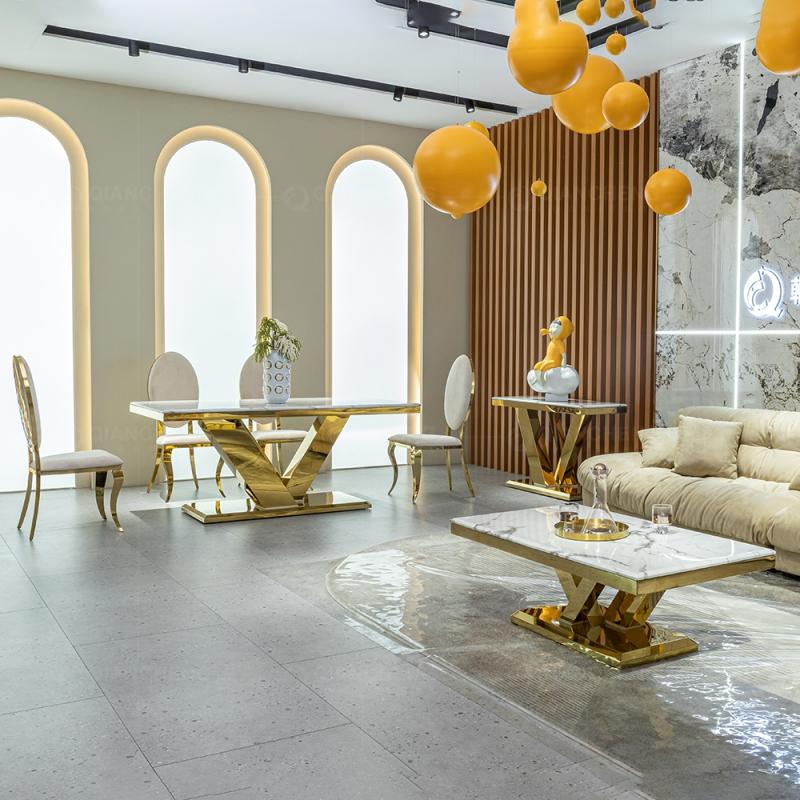 Qiancheng Furniture's white and gold marble dining table set for six seats is a standout product, featuring a rectangular dining table with a white marble top and a modern metal base, as well as six matched chairs with metal frames and upholstered seats. They also offer a range of customization options, including marble tops in different colors and patterns and metal frames in a range of finishes.
At Qiancheng Furniture, they pride themselves on their commitment to quality, stability, and customization. Their top materials include marble, stainless steel, and glass, all of which are known for their durability and resistance to scratches and stains. Their base materials include metal, stainless steel, and brass, which provide sturdy support and ensure that the table stays in place.
Artificial Marble Dining Table: Mirrored Silver Stainless Steel Frame For Six People Seat
Artificial marble dining tables have been gaining popularity in recent years due to their unique design, durability, and affordability. They are perfect for those who want to achieve a luxurious look in their dining room or living room without breaking the bank. Qiancheng, a wholesale marble dining table manufacturer, offers a range of artificial marble dining tables with a mirrored silver stainless steel frame that can seat up to six people.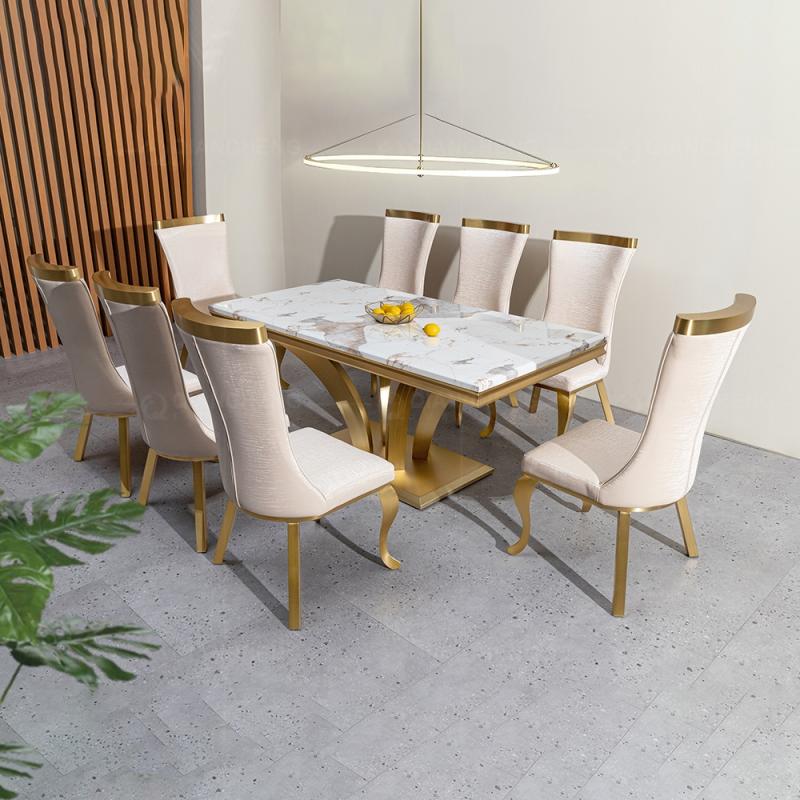 The dining table and chairs are made of high-quality artificial marble with stickers, which means that the marble pattern is not natural. However, the end result is still stunning and looks very much like the real thing. The dining table is perfect for wholesale dealers, retailers, and construction companies. And anyone who is looking for a modern and stable dining table for their business.
The dining table is made entirely of metal materials, specifically stainless steel, which makes it incredibly durable and long-lasting. This means that it is perfect for use in high-traffic areas such as restaurants, hotels, villas, and other public spaces. The metal frame of the dining table is available in various colors such as silver, gold, rose gold, champagne gold, black, and more, giving customers a wide range of options to choose from.
Conclusion
Qiancheng is a leading manufacturer of high-quality marble dining tables, with a wide range of products in stock, they are able to meet the requirements of customers at any time. They have a professional team, advanced equipment, and a strict quality control system.