The dining room is the heart of any home; it's where we gather with family and friends to share meals and stories and create lasting memories. As such, it's essential to have a dining room set that not only looks good but also meets our needs for functionality and durability. This is where Qiancheng Furniture comes in – a leading dining room set factory that promises unmatched quality, design, and innovation.
Qiancheng Furniture understands that every customer is different, which is why they offer customization options for their dining room sets. They can customize the size, shape, color, and materials of their dining room sets to meet the specific needs of their customers. This ensures that every customer can get a dining room set that is tailored to their individual preferences and needs.
1. Leading Technology in Dining Furniture Production:
Qiancheng Furniture utilizes state-of-the-art production technology to create dining room sets that are both visually stunning and built to last. Their advanced manufacturing processes ensure that each piece of furniture is crafted with precision and attention to detail, resulting in a final product that is not only aesthetically pleasing but also structurally sound.
2. High-quality Sample Customization Service:
One of the standout features of Qiancheng Furniture is its high-quality sample customization service. This service allows customers to provide their design ideas, which Qiancheng Furniture's skilled designers and craftsmen then bring to life. With their expert knowledge of materials, finishes, and design trends, they can create bespoke dining room table sets that perfectly match your business.
3. 100% Inspection Service:
At Qiancheng Furniture, quality control is of paramount importance. Each and every dining room set undergoes a rigorous 100% inspection service to ensure that it meets the highest standards of quality and craftsmanship. This meticulous attention to detail guarantees that when you invest in a Qiancheng Furniture dining set, you can be confident that you're purchasing a product that will stand the test of time.
4. A Commitment to Customer Satisfaction:
Qiancheng Furniture understands the importance of customer satisfaction and works tirelessly to exceed its client's expectations. From the initial consultation to the final delivery of the dining room table set, their team of professionals is dedicated to making your experience as smooth and enjoyable as possible. They take pride in their work and are always available to address any questions or concerns you may have along the way.
Dining Room Set Factory: White Marble Gold Dining Table Set
Are you in search of luxurious and sophisticated dining table sets that will meet all your commercial needs? Look no further than Qiancheng Furniture. This reputable factory specializes in producing stainless steel dining tables that are both modern and elegant. Their wide range of designs includes round, square, and rectangular tables to fit any dining room space.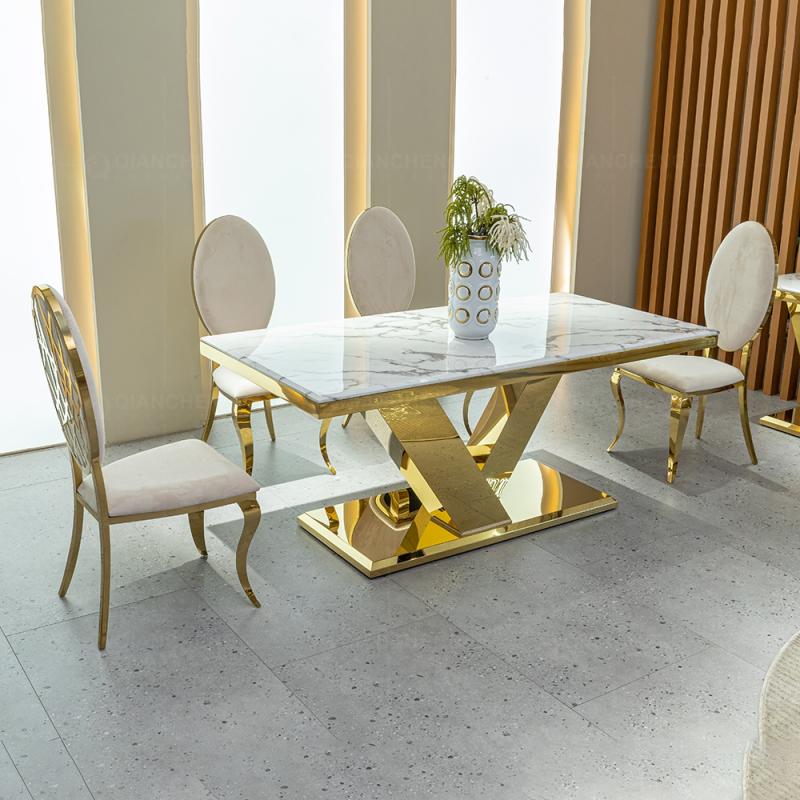 One of Qiancheng Furniture's most popular sets is the Contemporary White Marble Dining Table Set. This stunning set features a rectangular dining table with a white marble top and a sleek metal base. It comes complete with six matching chairs that feature metal frames and upholstered seats. The clean lines and minimalist design of this set make it the perfect addition to any modern or contemporary dining room.
Another popular choice is the Marble Top Gold Metal Frame Dining Table. This type of dining table features a luxurious marble top that can come in a variety of colors and patterns, sitting on a sleek gold metal frame. This design can be simple or ornate, depending on your personal style preferences. A white gold dining table is a particularly elegant and eye-catching option that is sure to impress your guests.
Dining Room Set Factory: Stainless Steel Dining Table Set Design
Foshan Qiancheng Furniture is a leading manufacturer of dining room sets, specializing in the design and production of glass-top stainless steel dining table sets. With a focus on modern design and stability, this company offers a wide range of dining table sets to meet the needs of customers in the dining room, restaurant, hotel, and villa industries.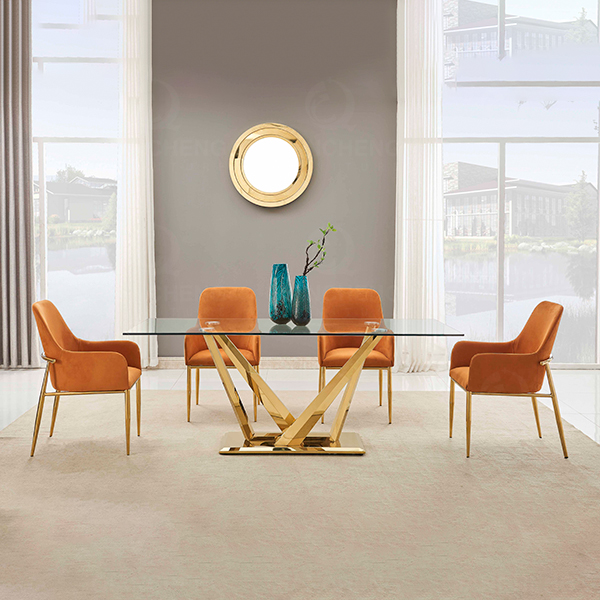 The stainless steel dining table set is made of top-quality metal materials, including stainless steel and brass, and is available in a variety of colors, including silver, gold, rose gold, champagne gold, and black. The table top can be made of marble, stone, or glass, providing customers with a range of options to choose from.
In addition to offering high-quality dining room sets, Foshan Qiancheng Furniture Co., Ltd also provides OEM and ODM services to meet the unique needs of each customer. The company is based in Foshan Guangdong, China, and offers a 1-year limited warranty on all of its products.
Dining Room Set Factory: Chinese Style Large Imported Glass Made Set
The Chinese Style Large Imported Glass Made Set features a sleek and modern design that will complement any contemporary interior. It is clean lines and minimalist aesthetic make it a perfect fit for homes with modern décor. The set is available in a range of colors to match your interior décor, including silver, gold, rose gold, champagne gold, and black.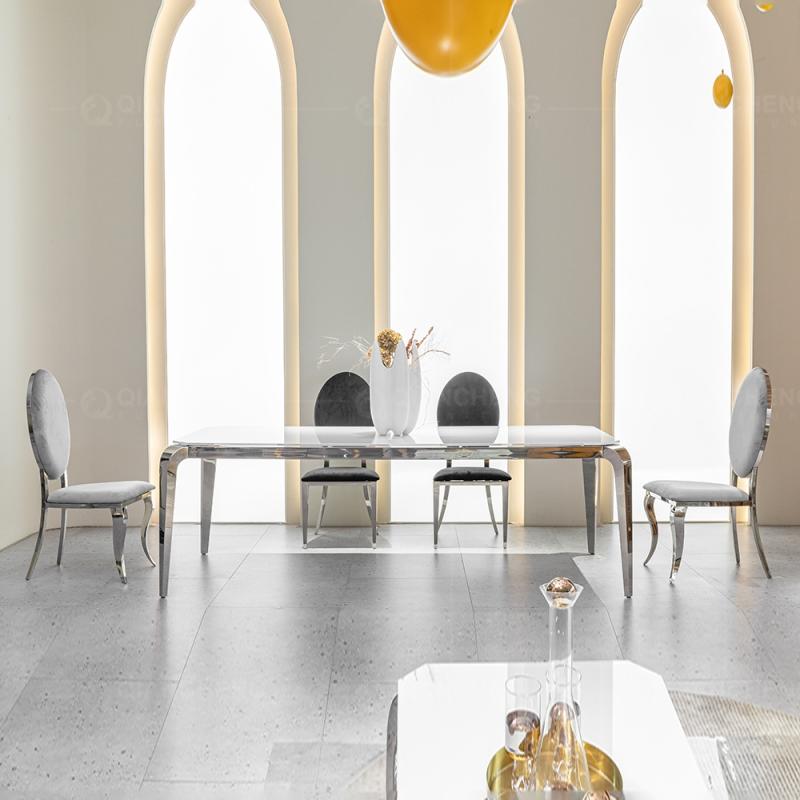 The top of the Chinese Style Large Imported Glass Made Set is available in three different materials: marble, stone, or glass. Each material has its own unique characteristics and can give your dining room a different feel. Marble and stone tops are more traditional, while the glass top is more modern and minimalist.
Qiancheng Furniture offers both OEM (Original Equipment Manufacturer) and ODM (Original Design Manufacturer) services. This means that they can either manufacture products based on your specifications or design a product specifically for you.
Conclusion:
If you are looking for a trusted supplier of dining room sets and living room furniture, look no further than Foshan Qiancheng Furniture Co., Ltd. With a focus on quality, style, and innovation, Qiancheng Furniture is the leading manufacturer of stainless steel furniture for the modern home.