QIANCHENG is a leading dining table set manufacturer, specializing in the production of high-quality stainless steel furniture for dining rooms and living rooms. The company has a reputation for producing durable, stylish, and functional furniture that is perfect for a wide range of settings.
With its commitment to quality and its wide range of products, QIANCHENG is the ideal choice for any business looking to provide its customers with high-quality, stylish, and functional furniture. So why wait? Contact QIANCHENG today and discover the best in stainless steel furniture for your customers!
Leading Dining Table Set Manufacturer: About QIANCHENG
QIANCHENG is a renowned dining table set manufacturer known for its commitment to craftsmanship, quality, and design. With 13 years of experience in the furniture industry, QIANCHENG has earned a reputation for producing exquisite dining table sets that cater to a wide range of tastes and styles.
Furniture Factories Gold Dining Table Set Stainless Steel for Sale
1. Features:
One of the most crucial aspects of any piece of furniture is its stability, and the Gold Dining Table Set Stainless Steel is no exception. The set is designed to be stable and sturdy, ensuring you can enjoy your meals without any wobbling or wiggling. The table's base is made of metal, stainless steel, or brass, making it strong and durable. The top material can be marble, stone, or glass, adding to the set's stability.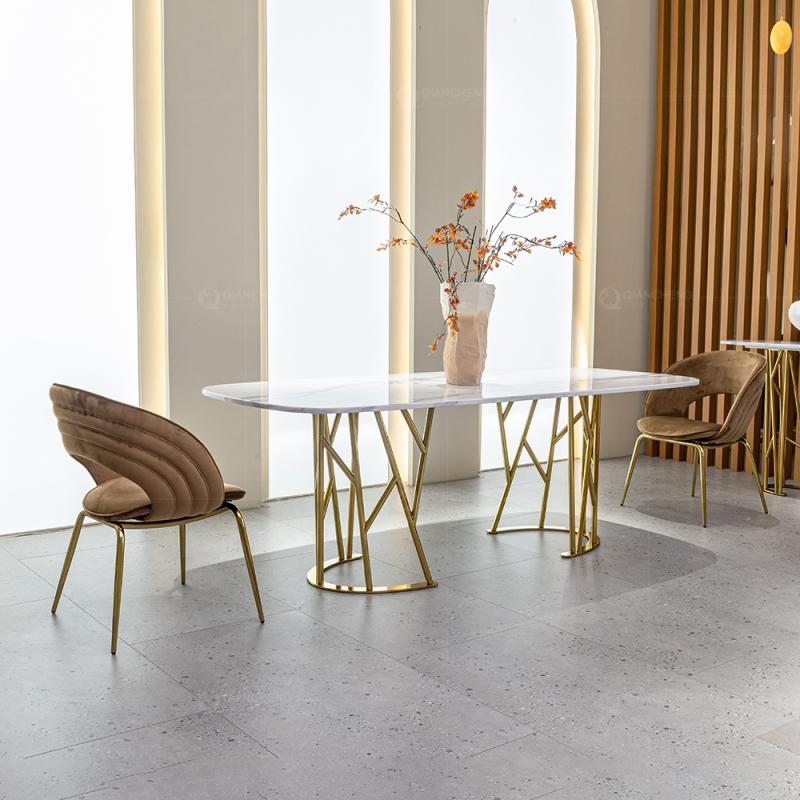 2. Top Material:
The tabletop is an essential part of any dining table set, and the Gold Dining Table Set Stainless Steel doesn't disappoint. It features a top made of marble, stone, or glass, making it a durable and stylish choice. The marble and stone tops offer a unique texture and pattern, making every piece one-of-a-kind. The glass top, on the other hand, adds a sleek and modern touch to the set.
3. Base Material:
The base of the dining table set is made of metal, stainless steel, or brass, making it strong and durable. The steel color options include silver, gold, rose gold, champagne gold, black, and more, allowing you to customize the settings to match your projects.
China OEM Rose Gold Dining Table Set For 4 with Chairs
1. Unique and Elegant Design:
Rose gold is a trendy and modern color that can elevate the look of any dining room. A rose gold dining table set can be a unique and eye-catching addition to your home, making it stand out from other traditional dining sets. It adds a touch of elegance to any room, making it perfect for formal dining areas or as a statement piece in a more casual setting.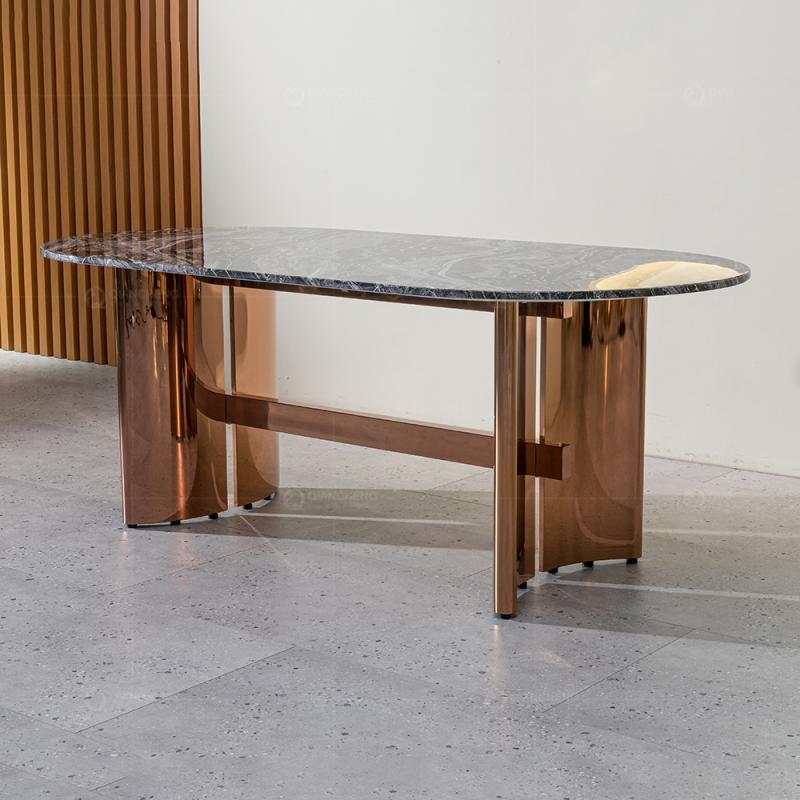 2. Versatile:
The rose gold color is versatile and can complement various decor styles. Whether your home has a modern, contemporary, or traditional look, a rose gold dining table set can fit in seamlessly. It can pair well with neutral colors like black, white, and gray, or add a pop of color when paired with a bright and bold color scheme.
3. OEM (Original Equipment Manufacturer):
OEM dining table sets are manufactured by one company and sold to another company that sells them under its own brand name. Choosing a China OEM rose gold dining table set offers many advantages, including high-quality manufacturing, customization options, and affordability. You can work directly with Foshan Qiancheng Furniture Co., Ltd. to create a dining set that fits your specific needs and budget.
Wholesale Luxury Marble Top Dining Table Set With Stainless Steel Frames
1. Size
The size of your marble dining table will depend on the size of your needs. A small, intimate table for four people can be perfect for a cozy dining area, while a larger table that can seat ten or more can be ideal for hosting dinner parties or family gatherings. Be sure to measure your space and consider the amount of space you will need to accommodate your chairs and other furniture.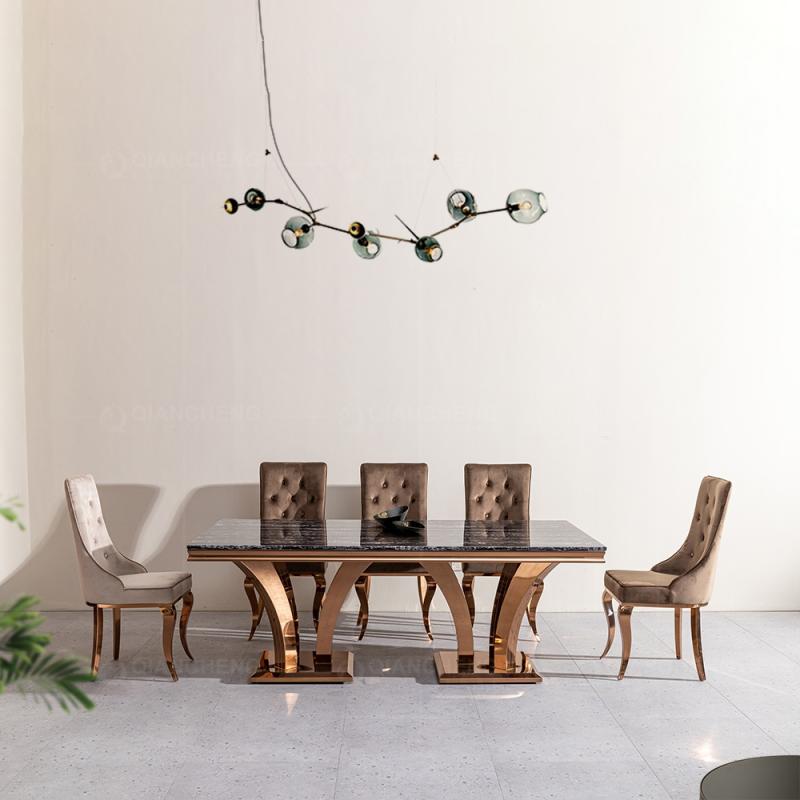 2. Shape
Marble dining tables come in a variety of shapes, including round, rectangular, oval, and square. The shape you choose should complement the style of your dining room and the other furniture in the room. A round table can create a cozy and intimate dining experience. While a rectangular table can be perfect for larger spaces.
3. Finish
Marble can be polished to a high gloss or honed to a matte finish. A polished finish will make the marble shine and bring out the natural colors and veining patterns, while a honed finish will give the marble a softer, more natural look. Consider the overall style of your dining room and the look you want to achieve when choosing the finish.
Why Choose QIANCHENG Dining Table Sets?
1. Unparalleled Craftsmanship
QIANCHENG's master craftsmen take pride in their work, ensuring that each piece is made with exceptional attention to detail. From the selection of high-quality materials to the intricate manufacturing and finishing processes.QIANCHENG's dining table sets are a testament to their dedication to creating visually stunning and long-lasting furniture.
2. High-Quality Materials
A great dining table set starts with great materials, and QIANCHENG is committed to using only the finest metals and finishes in its creations. The use of premium materials not only ensures durability but also adds to the luxurious feel of their dining table sets.
3. Customizable Designs
Understanding the importance of personalization, QIANCHENG offers customizable dining table sets that cater to a variety of preferences. You can choose from different materials, finishes, and sizes to create dining tables for your commercial projects.
4. Excellent Customer Support
QIANCHENG's dedication to customer satisfaction is evident in its comprehensive customer support services. From helping clients choose the perfect dining table set to providing after-sales assistance.QIANCHENG's customer support team is always ready to ensure a seamless and enjoyable experience.
5. Environmentally Conscious Practices
QIANCHENG is committed to reducing its environmental impact by using sustainable materials and eco-friendly manufacturing processes. By choosing a QIANCHENG dining table set, customers can be confident that they are not only investing in a beautiful piece of furniture but also supporting environmentally responsible practices.
Conclusion
The dining table sets from QIANCHENG are designed with both form and function in mind. Made from high-grade stainless steel, these pieces are durable, resistant to wear and tear, and easy to clean and maintain. The sleek and modern designs of these tables make them ideal for contemporary homes and businesses. While the functionality of the pieces makes them perfect for hosting meals and gatherings.