As the furniture industry continues to grow, retailers face a wide range of challenges when it comes to meeting the demands of their customers. With the variety of modes, diversity of color, and size formulation, finding the right furniture manufacturer can be quite challenging. Fortunately, Foshan Qiancheng Furniture, a leading furniture manufacturer in China, offers a wide range of solutions to retailers, wholesalers, project contractors, designers, and restaurant owners.
Foshan Qiancheng Furniture offers a unique set of benefits that make it an excellent choice for those in the furniture industry. Their ability to break through the challenges of furniture design and quality assurance is unparalleled. Their team of experts will work with you to ensure that your furniture design is perfect, and the quality is up to the standards that your customers expect. With years of experience in the industry, Foshan Qiancheng Furniture has a profound understanding of what it takes to make a brand stand out in the furniture market.
Find Your Perfect Dining Room Set with China's Leading Furniture Manufacturers
If you're looking for the perfect dining room set, look no further than Foshan Qiancheng Furniture Co., Ltd., China's leading furniture manufacturer. With over 13 years of experience in producing stainless steel furniture, this company offers a wide range of high-quality dining tables, dining chairs, coffee tables, and more.
Their factory covers an area of 23,000 square meters and boasts a team of 6 designers, 15 professional salespeople, and over 200 experienced workers. They utilize 6 big CNC laser cutting machines to produce precise, high-quality products every time.
Foshan Qiancheng Furniture is committed to providing excellent customer service. They offer OEM & ODM services, provide high-quality pictures of products, and assemble videos of ordered items. They also accept customized orders for design, color, size, material, and packaging. All products undergo a 100% quality inspection before delivery to ensure customer satisfaction.
China Dining Room Set Furniture Manufacturers: China Furniture Factory Faux Marble Dining Table and Chair Set
The Faux Marble Dining Table and Chair Set is a great option for those who want to add a touch of luxury to their dining space without breaking the bank. The faux marble tabletop is incredibly realistic, mimicking the natural veining and texture of real marble. This gives the set an elegant and high-end look that will impress guests and customers alike.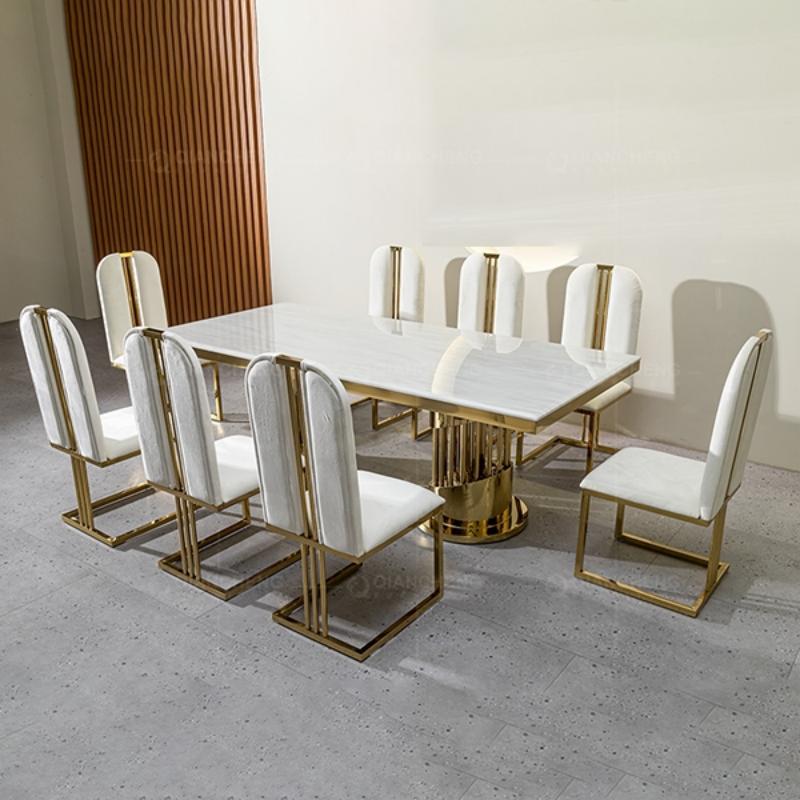 The sturdy metal frame provides the table with stability and durability, ensuring that it will last for years to come. The chairs feature an elegant design that adds sophistication to any dining space. Additionally, the set comes in different steel colors, including silver, gold, rose gold, champagne gold, and black, making it easier to match with any interior design.
The cultured marble dining table and chair set. is to solve these pain points by providing a strong and durable option with a stylish design. The faux marble tabletop adds a touch of luxury without the high price tag, making it an affordable option for those on a budget. The metal frame provides stability, ensuring that the table can withstand regular use in a commercial setting.
China Dining Room Set Furniture Manufacturers: Qiancheng Marble Dining Table And Chairs With Ss Frame For Luxury Home Furniture
Foshan Qiancheng Furniture is a Chinese manufacturer. It specializes in producing high-quality dining room sets for luxury residences, restaurants, hotels and villas. One of their most popular products is the Qiancheng marble dining table and chairs set, which features a sleek stainless steel frame that complements the premium quality marble tabletop.
The Qiancheng marble dining table and chairs set is designed with comfort and durability in mind. The chairs are cushioned and upholstered in a soft and luxurious fabric. Ensuring that you and your guests can enjoy your meals in comfort for hours on end. The tabletop is made of premium-quality marble. Which is not only durable but also adds a touch of elegance to the set.
In addition, Thousand City Marble Dining Table Set is versatile. It is suitable for various occasions from family dinners to formal dinners. The timeless design ensures that it will never go out of style, making it a great investment for any business.
China Dining Room Set Furniture Manufacturers: Wholesale Luxury Marble Top Dining Table Set With Stainless Steel Frames Double Base
Foshan Qiancheng Furniture is a leading manufacturer of luxury dining room sets, offering wholesale marble top dining table sets with stainless steel frames double base. This high-end furniture set is designed with modern aesthetics and crafted from high-quality materials that ensure both style and durability.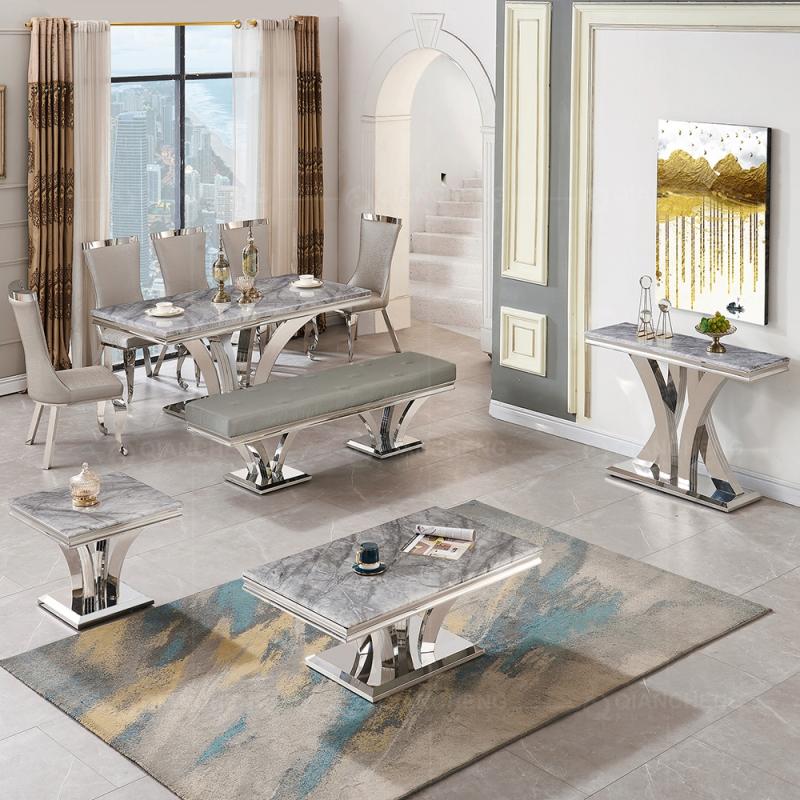 This luxury dining room set is designed for homeowners, restaurateurs. And hoteliers who want to elevate their dining experience with a sophisticated and functional set. Pain points for these audiences may include a lack of style or durability with their current dining furniture. Difficulty finding furniture that matches their modern aesthetic, or looking to impress guests with a luxurious dining space.
Foshan Gancheng Furniture Wholesale Stainless Steel Frame Double Base Luxury Marble Top Dining Table. It solves these pain points with high-quality materials, modern design, matching chairs, durable, and easy maintenance. The use of premium marble, stainless steel frames, and high-density foam ensures that the set can withstand regular use while maintaining its modern aesthetic. The matching chairs complement the table's design and come in various color options to suit any décor style. The easy-to-clean marble top further adds practicality and convenience to the set.
Unbeatable Prices and Quality: China Dining Room Set Furniture Manufacturers
Furniture is a crucial element in the design of any home or commercial space. And the dining room set is one of the essential pieces of furniture. The right dining room set can enhance the aesthetic value and comfort of your space. Making it more inviting and functional. However, finding a reputable furniture manufacturer that offers unbeatable prices and quality can be challenging, especially for those looking to furnish their dining spaces. That's where Foshan Qiancheng Furniture comes in.
For 13 years, Foshan Qiancheng Furniture has been focusing on OEM and ODM stainless steel dining furniture manufacture, offering a range of products to its customers. With 100+ original design patents, the company ensures that its clients receive unique, high-quality furniture. Additionally, their commitment to 24-hour online service and response within 30 minutes, along with their 100% inspection service, ensures that their customers' needs are always met.
Conclusion
Foshan Qiancheng Furniture is an excellent choice for anyone looking for high-quality dining room set furniture manufacturers in China. With their focus on quality and their ability to deliver customized solutions. They are the perfect choice for retailers, wholesalers, project contractors, designers, and restaurant owners. If you want to take your business to the next level. Foshan Qiancheng Furniture is the perfect partner to help you achieve your goals.