Qiancheng Furniture is a leader in China's home furnishing industry. It has a firm mission: to promote a healthy and efficient lifestyle and help individuals reach new heights in their careers. Our corporate mission is rooted in providing customers with a variety of high-quality, affordable luxury homewares at affordable prices. Central to our ethos are the values of affordability and unique design home sets furniture excellence.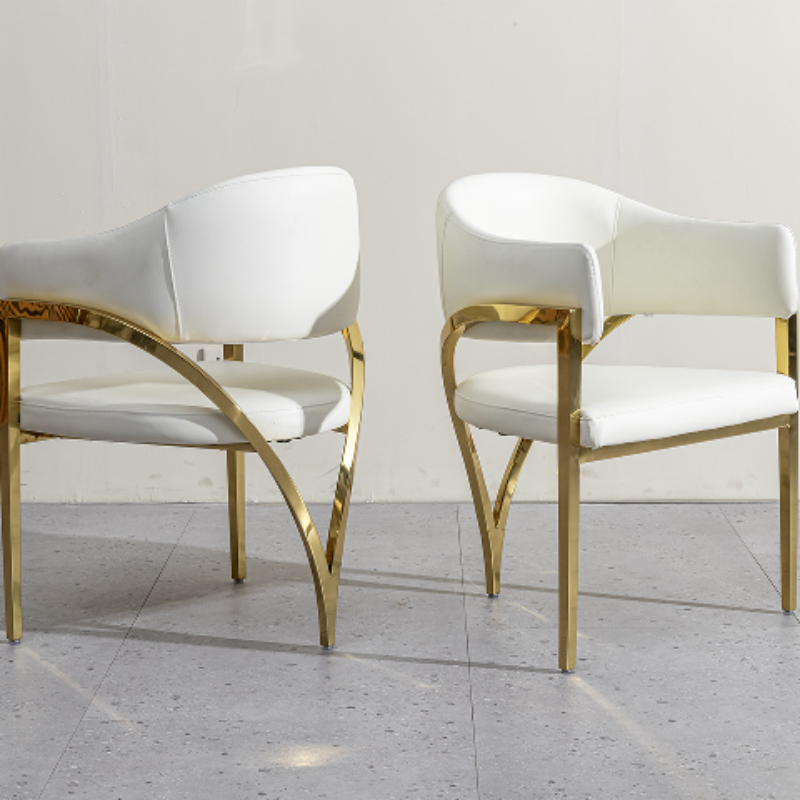 In an age where home decor serves as a vital means of expressing one's personality and lifestyle, Qiancheng Furniture deeply acknowledges the importance of delivering furniture that not only adheres to budget constraints but also enhances the visual appeal of living spaces. Our unwavering commitment to affordability ensures that individuals from all financial backgrounds can access stylish and practical furniture to elevate their homes.
The Qiancheng Distinction
At Qiancheng Furniture, we take immense pride in distinguishing ourselves through a triad of fundamental principles that form the core of the Qiancheng Distinction: Craftsmanship, Unique Designs, and Sustainability.
Craftsmanship
We firmly believe that quality and affordability can coexist harmoniously. Qiancheng Furniture is dedicated to upholding unparalleled craftsmanship while ensuring our prices remain accessible to a diverse clientele. With over 200 Original Design patents, our highly skilled artisans painstakingly create each piece, prioritizing durability and longevity without compromising cost-effectiveness. Our advanced technology in producing dining furniture sets industry standards.
Unique Designs
Our furniture collections transcend mere products; they are the embodiment of artistry and ingenuity. Qiancheng Furniture draws inspiration from a rich tapestry of cultural influences, architectural marvels, and the ever-evolving landscape of design. We also provide a high-quality sample customization service. Our devoted team of designers breathes life into these inspirations, crafting distinctive styles that seamlessly blend aesthetic allure with practical innovation.
Sustainability
Qiancheng Furniture acknowledges its duty to the planet and remains unwavering in its commitment to sustainability. We firmly believe that the allure of exquisite furniture should not come at the expense of the environment. In pursuit of this belief, we employ eco-friendly materials, embrace sustainable sourcing practices, and champion environmentally conscious manufacturing processes.
Unique Product Designs
In our quest for exceptional furniture, Qiancheng Furniture proudly presents a selection of uniquely designed pieces across various collections:
Living Room Collections
Coffee Tables – American Wholesale Furniture White Round Coffee Table with Steel Frame: Discover the modern elegance of our White Round Coffee Table from American Wholesale Furniture. This stylish addition to any living space boasts a sleek and sturdy steel frame finished in pristine white. The tabletop features high-quality materials with a smooth, easy-to-maintain glossy finish. Its generous round shape provides ample space for drinks and snacks. Beyond its chic appearance, this coffee table is also highly practical, built to last with reliable steel support for years of use.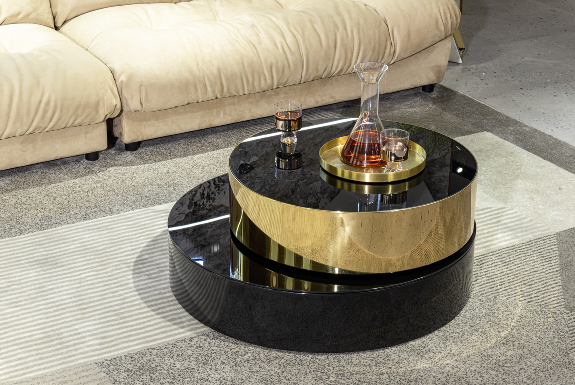 Dining Room Sets
Tables – OEM Modern Dining Table in Stainless Steel: Elevate your dining experience with our OEM Modern Dining Table from China. This striking piece of stainless steel furniture seamlessly merges contemporary design with functionality. Meticulously crafted to perfection, it is destined to become the focal point of your dining room, embodying the essence of modern elegance.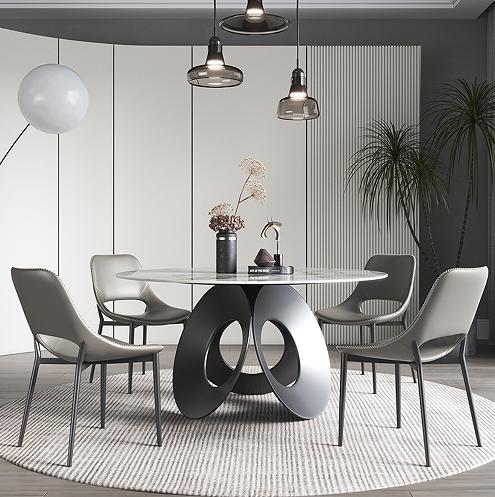 Chairs – Oem High-End Gold Stainless Steel Dining Chair: Exuding opulence and sophistication, our Oem High-End Gold Stainless Steel Dining Chair is a true embodiment of luxury. Its golden stainless steel frame adds a touch of glamour and refinement to any dining room or upscale setting. As part of our OEM (Original Equipment Manufacturer) service, you have the freedom to customize this chair according to your unique preferences, ensuring it harmonizes perfectly with your decor and brand identity.
At Qiancheng Furniture, we are acutely aware that furniture should transcend mere utility; it should be a reflection of your distinct style and personality. Our unwavering commitment to innovative design ensures that our living room and dining room collections not only serve their intended purpose but also infuse your home with a unique and compelling flair. Whether you're enjoying a coffee in your living room or sharing memorable meals with loved ones, our unique designs enhance your spaces and elevate your everyday experiences.
Customization Choices
At Qiancheng Furniture, we recognize the importance of ensuring that your furniture is a true reflection of your distinctive taste and style. To achieve this, we offer an array of customization choices, providing you with the flexibility to tailor your selected furniture to your exact preferences and the unique dimensions of your space.
Materials
Select from a diverse range of premium materials to craft your ideal piece. Whether you favor the inviting warmth of natural marble, the sleek modernity of metal, or the refined elegance of glass, our selection caters to a variety of tastes, allowing you to harmonize your furniture with both your aesthetic preferences and functional requirements.
Finishes
Personalize the finish of your furniture to harmonize with your interior decor. Our spectrum of finish options encompasses everything from classic stainless steel stains to contemporary matte or glossy surfaces, enabling you to elevate the overall appearance and ambiance of your furniture.
Bespoke Design
Transform your vision into reality through our bespoke design offerings. Collaborate closely with our seasoned designers to create a one-of-a-kind piece that seamlessly complements your living space. Whether it entails adjusting dimensions, incorporating unique embellishments, or conceiving an entirely original design, our customization options are tailored to accommodate your specific needs and aspirations.
Affordability Without Compromising Quality
At Qiancheng Furniture, we are steadfast in our belief that quality and affordability can exist in perfect harmony. Our approach is a testament to this unwavering commitment.
Transparent Pricing Structure
Our pricing structure is built upon principles of transparency and fairness. We conduct thorough competitive market analysis to ensure our prices remain highly competitive. All while adhering to unwavering quality standards for our furniture. By closely monitoring market trends and production efficiency. We continually optimize pricing to provide the best value for your investment.
Flexible Payment Options and Financing
We recognize that choosing furniture is a significant decision, and we are dedicated to making it as accessible as possible. To this end, we provide a range of flexible payment options and financing plans tailored to your individual financial circumstances. Whether you prefer an upfront payment or require a customized payment plan that aligns with your budget, rest assured that we are here to facilitate a convenient and stress-free furniture purchasing experience.
CONCLUSION
In summary, Qiancheng Furniture is a shining example of excellence in the realm of home furnishings, offering Affordable & Unique Home Sets tailored to both your budget and your personal style. Our steadfast commitment to delivering top-tier furniture at competitive prices is complemented by our unwavering dedication to innovation and design. By providing customizable options, flexible payment plans, and a strong focus on sustainability, we ensure that your journey to furnishing your living spaces is not only seamless but also deeply fulfilling.
At Qiancheng Furniture, we hold firm in our resolve to never compromise on quality or style. Your home deserves nothing but the finest, and that's precisely what we deliver – furniture that is both affordable and distinct, transforming your space into an authentic reflection of your individuality and taste. Immerse yourself in the Qiancheng experience, and let us elevate your home to new levels of comfort, sophistication, and uniqueness.