Qiancheng Furniture, a leading manufacturer in the industry, specializes in producing top-notch stainless steel dining chairs for wholesale export. With its commitment to superior quality, innovative designs, and customer satisfaction, Qiancheng Furniture has established itself as a reliable and trustworthy choice for businesses seeking exceptional dining chairs.
Qiancheng Furniture prides itself on its unwavering dedication to quality. Every dining chair produced at their factory undergoes rigorous quality control procedures, ensuring that only the finest products reach the market. The chairs are meticulously crafted using premium-grade stainless steel, which guarantees exceptional durability, resistance to corrosion, and a sleek, modern appearance. The factory's state-of-the-art manufacturing facilities, combined with skilled craftsmanship, result in dining chairs that surpass industry standards.
II. Innovative Designs: The Intersection of Functionality and Style
Qiancheng Furniture understands the importance of aesthetics in creating a captivating dining experience. Their design team continuously explores innovative concepts and keeps up with the latest trends, ensuring that their dining chairs seamlessly blend functionality with style. From minimalist designs to intricate details, each chair exudes elegance and sophistication. Customers can choose from a wide range of designs, colors, and finishes to suit their unique preferences and interior decor.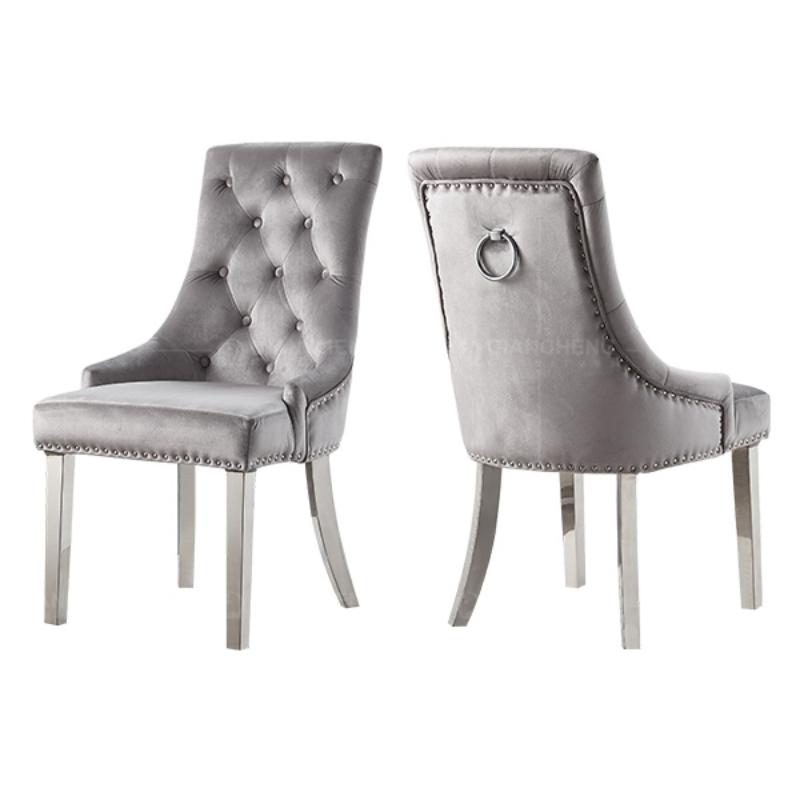 Recognizing that every business has different requirements, Qiancheng Furniture offers extensive customization options for its wholesale customers. Whether it's altering the chair dimensions, modifying the upholstery material, or incorporating specific design elements, the factory's skilled craftsmen are equipped to meet diverse demands. This flexibility allows businesses to curate dining chairs that align perfectly with their brand identity, ensuring a cohesive and personalized dining space.
IV. Competitive Pricing: Wholesale Solutions for Your Business
As a wholesale factory, Qiancheng Furniture offers competitive pricing options that make its high-quality stainless steel dining chairs accessible to businesses of all sizes. By streamlining its production processes and leveraging economies of scale, the factory delivers exceptional value without compromising on quality. Whether you're a small restaurant owner or a large-scale hospitality chain, Qiancheng Furniture's pricing structure caters to various budget requirements, making them an ideal partner for your dining chair needs.
V. Reliable Export Services: Seamless Delivery Worldwide
Qiancheng Furniture has extensive experience in exporting its products worldwide, making them a reliable choice for businesses looking to source dining chairs internationally. The factory ensures efficient packaging, secure transportation, and timely delivery to any corner of the globe. Their commitment to customer satisfaction extends beyond manufacturing, providing a seamless export experience that is both reliable and hassle-free.
Exporting Dinning Chairs Wholesale Factory from Qiancheng Furniture: A Quality-Oriented Journey
When it comes to exporting high-quality dining chairs, Qiancheng Furniture stands out as a leading manufacturer. With a focus on stainless steel materials, they have established themselves as a reliable wholesale factory in the industry. Qiancheng Furniture's commitment to delivering top-notch products is evident in its meticulous service process.
Section 1: Ensuring Quality at Every Step
1: PMC – Professional Order System Management
Qiancheng Furniture understands the importance of efficient order management. With their Professional Order System Management (PMC), they streamline the entire process, ensuring smooth communication and timely execution of orders. This meticulous approach enables them to maintain strict quality control standards throughout production.
2: R&D – 13+ Years in Furniture Industry Professional Designer
One of the key factors contributing to Qiancheng Furniture's success is its experienced Research and Development (R&D) team. With over 13 years of industry expertise, these professionals bring innovation and creativity to their designs. Their proficiency in understanding market trends and customer preferences enables Qiancheng Furniture to deliver contemporary and aesthetically pleasing dining chairs.
3: CNC Laser – Accurate and Efficient Cutting
Precision is crucial in the manufacturing process, and Qiancheng Furniture employs CNC Laser technology for fully automatic machine cutting. This advanced machinery ensures accuracy and efficiency in cutting stainless steel materials. By utilizing cutting-edge technology, Qiancheng Furniture guarantees precise dimensions and clean edges in its dining chair production.
4: Welding – Meticulous Attention to Detail
The welding stage is where the components of the dining chairs come together. Qiancheng Furniture's product line consists of 25 stations dedicated to manual welding. With a keen eye for detail, their skilled welders ensure every joint is meticulously crafted, guaranteeing the structural integrity and durability of each dining chair.
Section 2: Perfecting the Finishing Touches
1: Polishing – Enhancing the Aesthetics
To add a touch of sophistication to their dining chairs, Qiancheng Furniture employs a comprehensive polishing process. Utilizing a 230-meter-long water curtain, their furniture undergoes thorough polishing, resulting in a smooth and lustrous finish. This attention to detail enhances the overall aesthetics of the dining chairs and reflects their commitment to quality craftsmanship.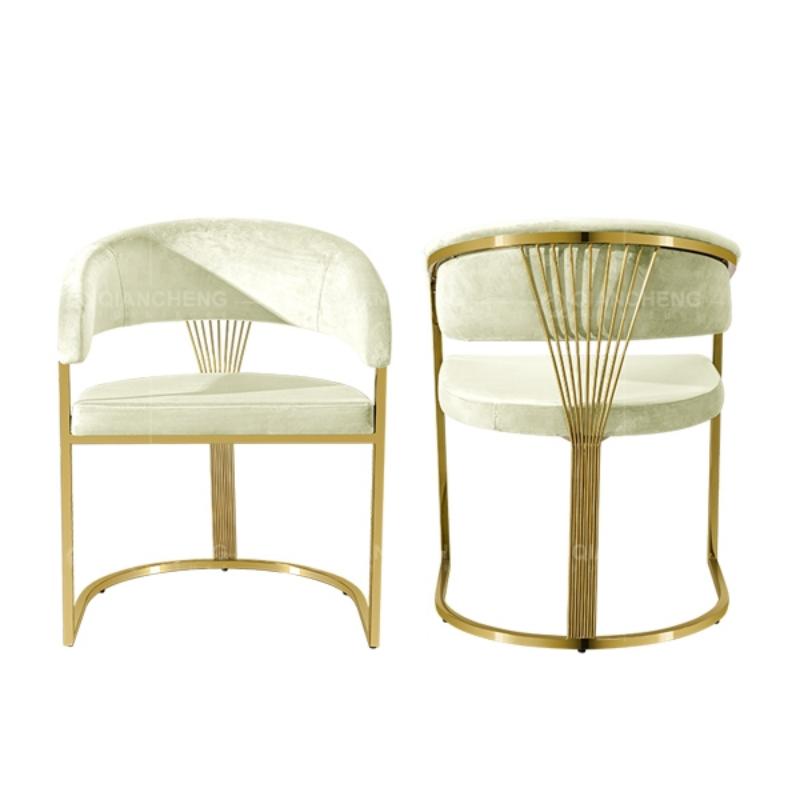 2: Inspection – Ensuring Superior Quality
Qiancheng Furniture places immense importance on quality control. At the inspection stage, each dining chair undergoes a stringent examination. The company provides comprehensive inspection reports, guaranteeing that every item meets its rigorous quality standards. By conducting thorough inspections, Qiancheng Furniture ensures that only top-notch products proceed to the next stage of production.
3: Plating Gold Color – Exquisite Finishing
For customers who desire an opulent touch, Qiancheng Furniture offers gold color plating. In their non-dust workshop, they employ a vacuum gold plating process to achieve a flawless and luxurious appearance. This additional customization option showcases their commitment to meeting diverse customer preferences and delivering dining chairs of exceptional quality.
Section 3: Securing Safe Delivery
1: Packaging – Protection and Safety
To safeguard their dining chairs during transit, Qiancheng Furniture utilizes robust packaging techniques. They employ a combination of strong cartons, foam, and EPE materials. For marble components, they employ wood frame packing to ensure added protection. Moreover, Qiancheng Furniture offers the option of 3A packaging, further ensuring the safety of the products during transportation.
2: Container Loading – Expert Handling
Qiancheng Furniture understands the significance of proper loading and handling to prevent any damage to its dining chairs. They have a professional loading team that specializes in skillfully arranging the products in containers, paying close attention to secure packaging. This meticulous approach guarantees that the dining chairs arrive at their destination in optimal condition, exceeding customer expectations.
Conclusion
Qiancheng Furniture, a leading wholesale factory specializing in stainless steel dining chairs, is dedicated to providing high-quality products to its customers. With a meticulous service process that includes professional order management, expert design, advanced machinery, rigorous quality control, and careful packaging, Qiancheng Furniture maintains its reputation for excellence. Whether you are a distributor or a retailer looking for top-notch dining chairs, Qiancheng Furniture is the ideal choice for your business needs.