When it comes to furnishing dining spaces, a crucial element is the dining table. In Guangdong Foshan, a city renowned for its furniture manufacturing industry, Qiancheng Furniture has emerged as a leading manufacturer of high-quality dining tables. With its expertise and specialization in stainless steel dining tables, Qiancheng Furniture caters to the diverse needs of various industries and individuals. Let's explore how their products meet the requirements of different sectors.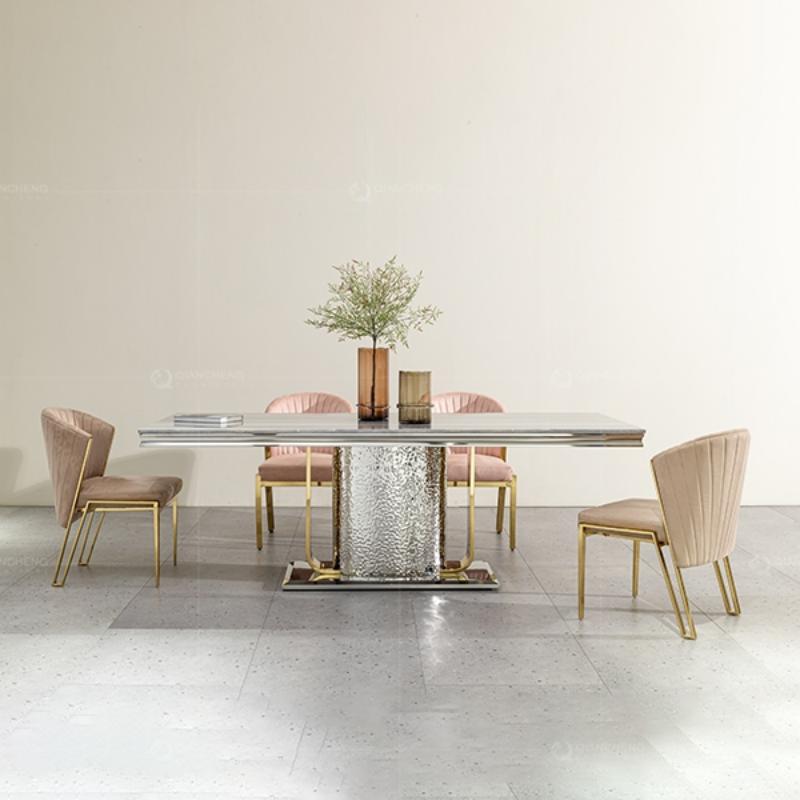 1. Restaurants and Cafes: Enhancing Seating Arrangements
Restaurants and cafes are bustling establishments that require an ample number of dining tables to accommodate their customers. The durability and aesthetic appeal of stainless steel dining tables makes them an ideal choice for such establishments. Qiancheng Furniture understands the needs of the hospitality industry and produces dining tables that withstand the daily rigors of a restaurant environment. With Qiancheng's stainless steel dining tables, restaurants, and cafes can provide a sophisticated and contemporary ambiance to their patrons.
2. Hotels and Resorts: Exuding Elegance and Functionality
Hotels and resorts strive to create memorable dining experiences for their guests. Multiple dining areas, including restaurants, buffets, and outdoor seating, necessitate a considerable number of dining tables. Qiancheng Furniture's stainless steel dining tables blend elegance with functionality, allowing hotels and resorts to offer a luxurious and visually appealing dining space. The durability of stainless steel ensures that these tables can withstand high traffic and constant use in such establishments, maintaining their pristine appearance for years to come.
3. Furniture Wholesalers and Retailers: Meeting Market Demands
Furniture wholesalers and retailers play a vital role in meeting the demand for dining tables. With Qiancheng Furniture's extensive range of stainless steel dining tables, these businesses can offer their customers a wide selection to choose from. The versatility of stainless steel makes it a popular choice among individuals furnishing their homes and businesses. Qiancheng Furniture's commitment to quality ensures that wholesalers and retailers can provide durable and aesthetically pleasing dining tables that cater to diverse customer preferences.
4. Interior Designers and Contractors: Sourcing the Finest Furniture
Interior designers and contractors often require a significant number of dining tables when working on commercial projects. Whether it's a restaurant, bar, or office cafeteria, these professionals understand the importance of selecting furniture that complements the overall design concept. Qiancheng Furniture collaborates closely with interior designers and contractors, offering customizable stainless steel dining tables to align with their vision. By choosing Qiancheng's products, interior designers can create stunning dining spaces that seamlessly blend style and functionality.
How to Wholesale Guangdong Foshan Dining Table for Your Project?
When it comes to furnishing a project or a commercial space, finding the right dining table is crucial. Guangdong Foshan, known for its thriving furniture industry, offers a wide range of options for wholesale purchases.
1)Research and Identify Your Requirements:
Before diving into the wholesale process, take some time to research and identify your specific requirements. Consider factors such as the size, design, and functionality of the dining tables that will best suit your project. Stainless steel tables offer durability, a sleek appearance, and easy maintenance, making them a popular choice for various commercial settings.
2) Find a Reliable Manufacturer:
Qiancheng Furniture, based in Guangdong Foshan, is a well-established manufacturer known for its quality stainless steel furniture. Their extensive experience and expertise ensure that their products meet high standards. Research and shortlist potential manufacturers, and consider reaching out to Qiancheng Furniture for wholesale inquiries.
3) Verify Product Quality:
 When wholesaling dining tables, it's crucial to verify the quality of the products. Request product samples or visit the manufacturer's showroom if possible to inspect the materials, craftsmanship, and finishing. Ensure that the stainless steel used in the tables is of high grade and resistant to corrosion, stains, and scratches.
4) Customization Options:
Qiancheng Furniture offers customization options for their dining tables, allowing you to tailor the design to your project's specific needs. Discuss your requirements with the manufacturer, including size, shape, color, and any additional features you may require. Customization ensures that the tables seamlessly integrate into your space and align with your project's aesthetic vision.
5) Pricing and MOQ: 
Discuss pricing details and minimum order quantity (MOQ) with Qiancheng Furniture. Wholesale prices are typically more favorable, but it's important to negotiate and clarify any additional costs such as shipping, taxes, or import duties. Ensure that the pricing fits within your budget while maintaining the desired quality.
6) Logistics and Shipping:
Coordinate with the manufacturer regarding logistics and shipping arrangements. Guangdong Foshan's convenient location and well-developed transportation infrastructure make it easier to ship goods to various destinations. Discuss the shipping timeline, packaging, and any special requirements for delivery.
7) After-Sales Support:
Inquire about the manufacturer's after-sales support services. A reputable manufacturer like Qiancheng Furniture should provide warranties, assistance with installation, and timely customer support. Confirm these details before finalizing the wholesale purchase.
Why Choose Qiancheng Furniture's Guangdong Foshan Dining Table?
1. Unmatched Expertise and Innovation:
Qiancheng Furniture's dedication to producing dining furniture of the highest quality is evident in its expertise and innovative approach. With a team of over 200 workers and 13 years of experience, they have honed their craftsmanship to deliver exceptional products. Qiancheng Furniture's focus on continuous innovation is reflected in its production of three new series every month, ensuring that its designs remain fresh, trendy, and suitable for various interior styles.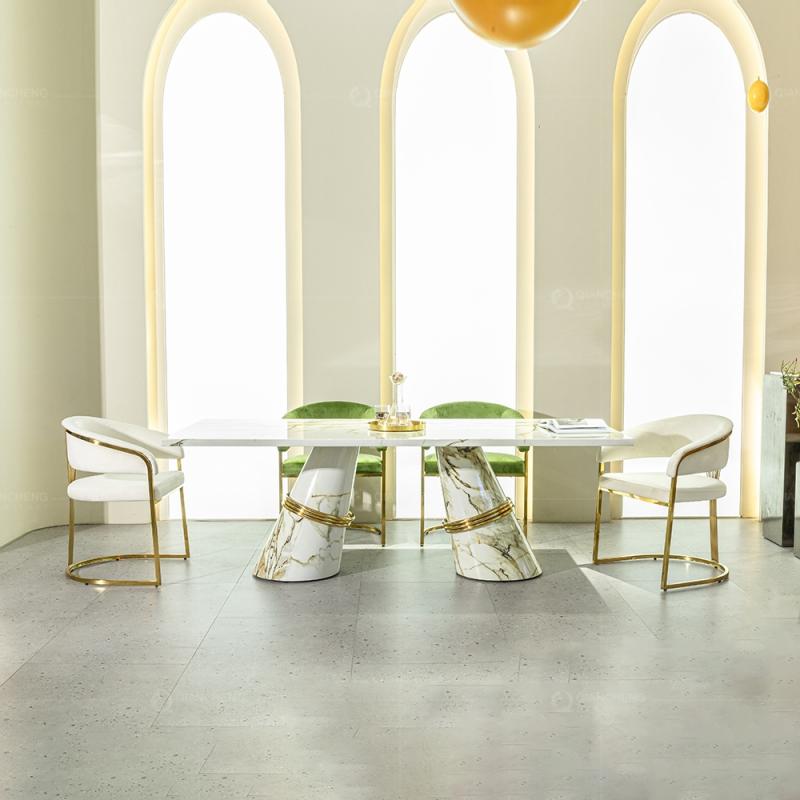 2. Original Design Patents:
One of the key distinguishing factors of Qiancheng Furniture is its commitment to originality. The company holds over 200 original design patents, which showcase its ability to create unique and aesthetically pleasing dining tables. By choosing Qiancheng Furniture, you can be confident that your dining table will stand out as a piece of art in your home.
Qiancheng Furniture takes pride in offering high-quality sample customization services. Whether you have specific design preferences or require tailor-made solutions, their team is dedicated to bringing your vision to life. By collaborating with skilled artisans and utilizing advanced technology, Qiancheng Furniture ensures that each dining table is crafted with precision and attention to detail.
4. Recognitions and Honors:
Qiancheng Furniture's accomplishments have not gone unnoticed. As a testament to their excellence, they have been recognized as a high-tech enterprise, a credit guarantee pioneer, and a high-quality supplier. Additionally, their status as an Alibaba Five-star Merchant and recipient of the Alibaba Global Best Business award further solidifies their reputation as a trusted furniture manufacturer.
Conclusion: Qiancheng Furniture – A Trusted Name in Stainless Steel Dining Tables
Qiancheng Furniture, based in Guangdong Foshan, has established itself as a trusted manufacturer of high-quality stainless steel dining tables. With a focus on meeting the diverse needs of various industries, Qiancheng Furniture has become the go-to choice for restaurants, hotels, furniture wholesalers, retailers, interior designers, and contractors. Their commitment to durability, functionality, and aesthetic appeal ensures that every dining space is elevated with their exquisite stainless steel dining tables. For those seeking the perfect dining table that combines style and practicality, Qiancheng Furniture is the ultimate destination.