Exporting marble coffee tables wholesale can be an excellent business opportunity for furniture retailers, interior designers, and home decorators. These products are highly sought after by customers who want to add a touch of elegance and sophistication to their homes.
If you're in need of stylish, comfortable, and high-quality dining chairs, Foshan Dining Chair Manufacturer is the ultimate solution for your needs. With their wide range of designs, customization options, and competitive pricing, you're sure to find the perfect chairs for your business.
Foshan Qiancheng Furniture is a leading manufacturer of marble coffee tables, offering a wide range of designs that cater to different tastes and preferences. Their products are made from high-quality materials and are crafted with care and attention to detail. As a result, they are highly durable and long-lasting, ensuring that customers get value for their money.
Export Marble Coffee Table Wholesale: Round Metal and Glass Coffee Table Wholesale Living Room Furniture On Sale
Qiancheng Furniture manufactures all their marble coffee tables in their factory located in Foshan Guangdong, China. They provide their clients with the opportunity to order products in bulk, and their minimum order quantity for marble coffee tables is 10. Once an order is placed, they deliver the products within 7-30 days, depending on the quantity of the order and the location of the client.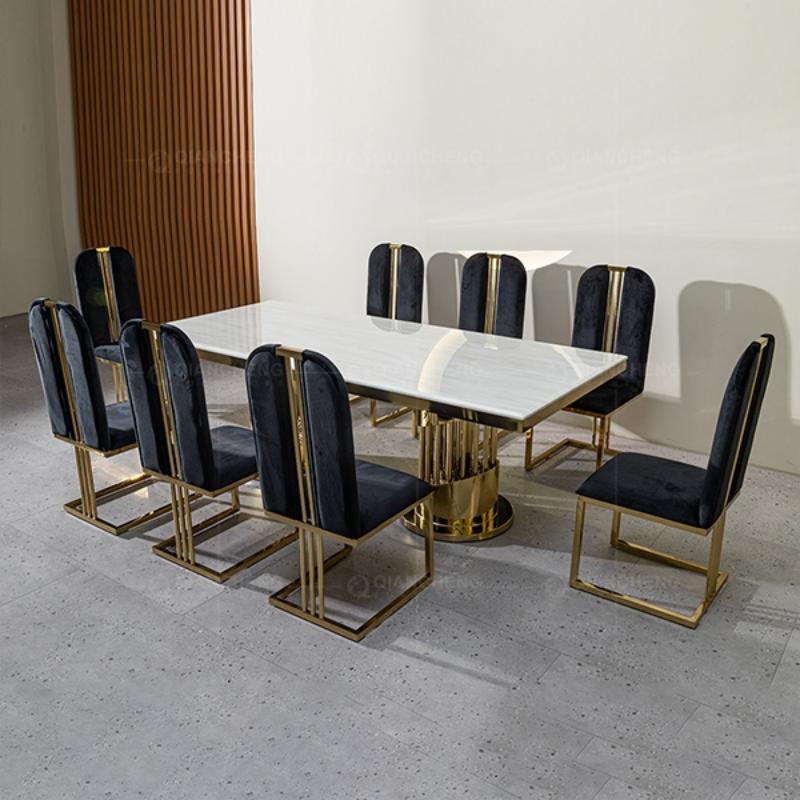 Qiancheng Furniture understands that its clients may have unique preferences and requirements, and they offer customized solutions to meet these needs. They have a team of experienced designers who are up to date with the latest trends in the market, and they are ready to work with clients to design and manufacture a marble coffee table that meets their specific needs and preferences.
Their marble coffee tables are available in different specifications to meet different needs, and their SKU number for the marble coffee table is 1977. These versatile tables can be used in various settings such as dining rooms, restaurants, hotels, and villas. They are designed in a modern style that will complement any decor.
Export Marble Coffee Table Wholesale: Foshan China Furniture Wholesale Modern Coffee Table Stainless Steel Frame Designs Suppliers
Foshan Qiancheng Furniture, a leading furniture manufacturer based in Foshan, China, offers a modern and sleek coffee table perfect for any living space. The coffee table features a stainless steel frame that provides stability and a tempered glass top that is easy to clean and maintain. Its compact size makes it an ideal choice for smaller living spaces and can be used as both a coffee table and an accent piece.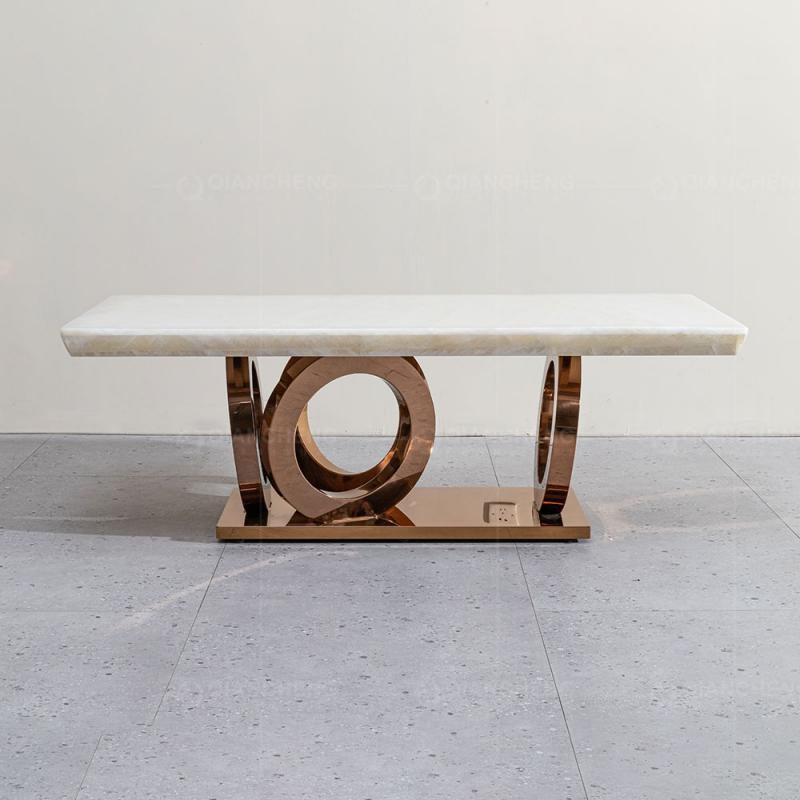 This product is intended for people in the hospitality industry, such as hotels and restaurants, as well as homeowners who want to add a touch of modern sophistication to their living spaces. The pain points for this target audience may include limited space, the need for furniture that is both functional and stylish, and the desire for easy maintenance.
This modern coffee table addresses these pain points by offering a compact and versatile design that is both functional and elegant. The stainless steel frame provides stability, while the tempered glass top is easy to clean and maintain. The wide range of designs and styles offered by Foshan Qiancheng Furniture also allows customers to choose a coffee table that perfectly fits their individual needs and preferences.
Export Marble Coffee Table Wholesale: Custom Design Modern Italian Faux Marble Coffee End Tables for Living Room
Foshan Qiancheng Furniture is a leading manufacturer of custom-designed modern Italian faux marble coffee end tables for living rooms. The company's latest product, the Custom Design Modern Italian Faux Marble Coffee End Tables (Item No: 2077), offers an elegant and versatile piece of wholesale furniture suitable for various applications like living rooms, restaurants, hotels, or villas.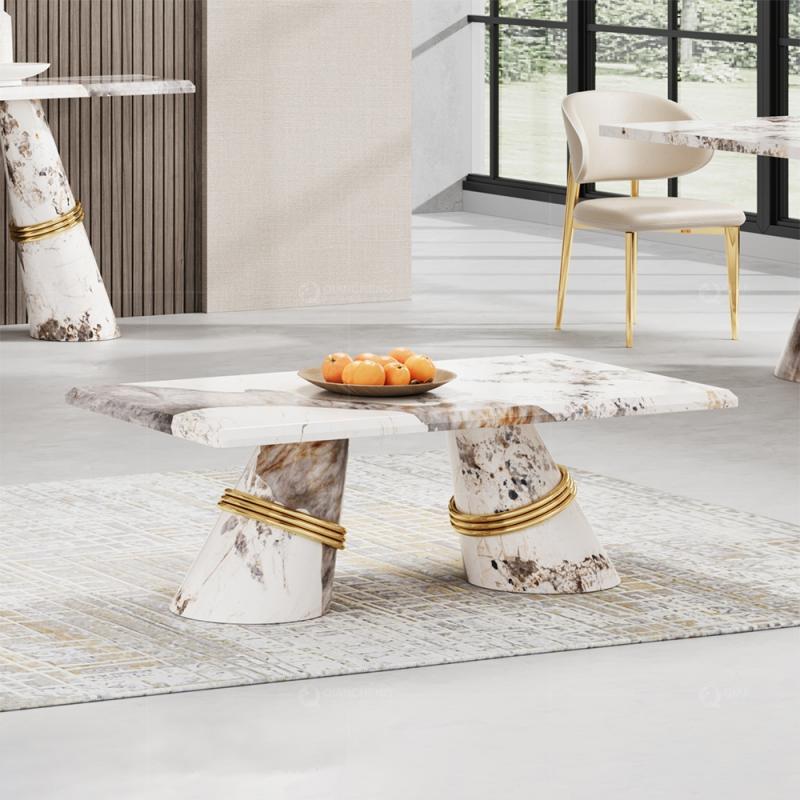 For retailers, the furniture industry poses significant challenges in terms of variety, size, color formulation, and quality assurance. Foshan Qiancheng Furniture addresses these concerns by providing a one-stop solution that guarantees the realization of retailers' designs with quality assurance. By partnering with Qiancheng Furniture, retailers can be assured that their brand promotion will have an excellent foundation, thanks to the company's profound experience in the furniture industry.
Wholesalers, on the other hand, benefit from the company's capacity to produce large-scale orders with an attractive lead time. Qiancheng Furniture's own machinery, technique, and specialized materials reduce costs, ensuring timely delivery of quality products that meet wholesalers' demands.
Foshan Qiancheng Furniture Offers Quality Assurance for Export Marble Coffee Table Wholesale
Foshan Qiancheng Furniture is a leading manufacturer of high-end home furnishings, specializing in OEM and ODM furniture for over 13 years. With a factory area of 23,000 square meters and over 200 skilled workers, Qiancheng produces 1200*40HQ output containers per year. The company has also obtained over 200 original design patents and updates three new series of furniture every month.
Qiancheng's corporate culture is centered around promoting a healthy life and efficient work, while continuously innovating to provide customer value. The company's mission is to let customers enjoy a diversified light luxury quality home life at a lower cost. Qiancheng has been recognized with numerous awards and certificates, including Alibaba's Five-star Merchant and Credit Guarantee, Credit Insurance Pioneer Award, and High-Quality Supplier.
Qiancheng's products will be most beneficial to furniture retailers and wholesalers looking to purchase high-quality marble coffee tables at competitive prices. Qiancheng offers a 100% inspection service and sample customization in order to ensure quality assurance, which is essential for customers who want to avoid product defects and returns. The pain point of retailers and wholesalers is to provide high-quality products that meet their customer's demands while keeping their costs down.
Conclusion
Qiancheng's export marble coffee table wholesale offers an affordable and reliable solution. The company's high-end furniture technology and design patents ensure that its products stand out in the market, while its 100% inspection service and sample customization provide quality assurance. By choosing Qiancheng, retailers and wholesalers can increase their profit margins while providing their customers with the luxury furniture they desire.