Qiancheng's stainless steel coffee tables are the epitome of style and functionality. Designed to meet the needs of various businesses, these tables offer a unique combination of durability, elegance, and versatility.
With customizable steel colors, OEM and ODM services, and suitability for various applications, Qiancheng's coffee tables are an excellent choice for wholesalers, dealers, retailers, and construction companies looking to enhance their inventory and delight their clients. Don't miss out on the opportunity to bring this exceptional product into your offerings and elevate your clients' spaces.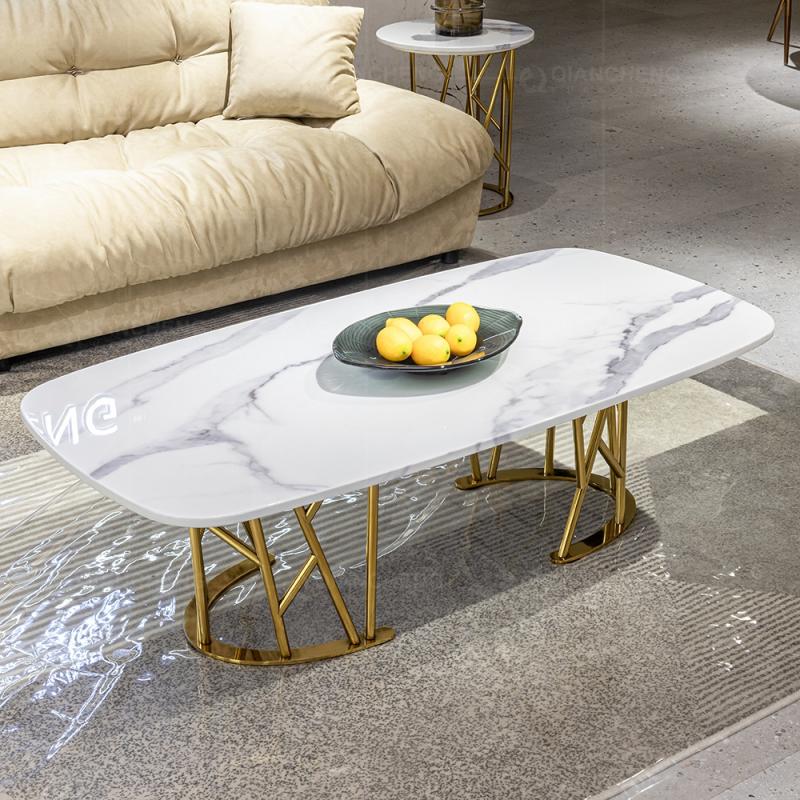 The Appeal of Stainless Steel Coffee Tables for Dining Tables
1) Durability and Longevity: Stainless steel is a strong and resilient material that resists scratches, dents, and stains. Its durability ensures that your table will last for years without losing its luster or showing signs of wear and tear.
2) Low Maintenance: Stainless steel requires minimal upkeep. A simple wipe-down with a damp cloth is often enough to keep your table looking clean and new.
3) Versatility: With a wide range of designs and finishes, stainless steel coffee tables can complement any décor style. They can easily blend with modern, minimalist, industrial, or even vintage-inspired spaces.
4) Timelessness: Stainless steel coffee tables have a timeless appeal, making them a smart investment for any homeowner. Their sleek and sophisticated look will never go out of style.
Functionality as Dining Tables: Stainless Steel Coffee Tables for Dining Table
1) Space-saving: For those living in small apartments or homes, using a stainless steel coffee table as a dining table can save valuable space. Its compact size is perfect for creating an intimate dining area without taking up too much room.
2) Customized Height: Some stainless steel coffee tables come with customized heights, so you can choose the perfect height for your needs. This makes it easy to customize your dining space according to your needs and preferences.
4) Easy to Clean: Stainless steel surfaces are non-porous and easy to clean, making them ideal for dining tables. Spills and food debris can be wiped away quickly, without the need for harsh chemicals.
Tips For Incorporating Stainless Steel Coffee Tables into Space
1) Choose the Right Size: Consider the size of your room and the number of people you plan to seat when selecting your stainless steel coffee table. A smaller table is perfect for intimate gatherings, while a larger table can accommodate more guests.
2) Opt for a Tempered Glass Top: A tempered glass top adds an extra layer of sophistication to your stainless steel coffee table, while also making it easier to clean. The transparent surface allows the beauty of the stainless steel frame to shine through, creating a stunning focal point in your room.
3) Coordinate with Other Elements: To create a cohesive look, consider incorporating other stainless steel elements into your space, such as chairs, barstools, or accent tables.
4) Add Softness with Textiles: Stainless steel can sometimes feel cold or harsh. Balance this with soft textiles like plush area rugs, upholstered chairs, and cozy throw pillows to create a warm and inviting dining area.
Elevate Your Business with Qiancheng Stainless Steel Coffee Tables: A Versatile Solution for Dining Spaces
The application extends to the living room, dining room, hotel, and villa. Qiancheng coffee table has a modern design style and unparalleled stability. The table tops are available in a variety of materials such as marble, stone and glass, allowing clients to customize their choice according to the aesthetic requirements of the project.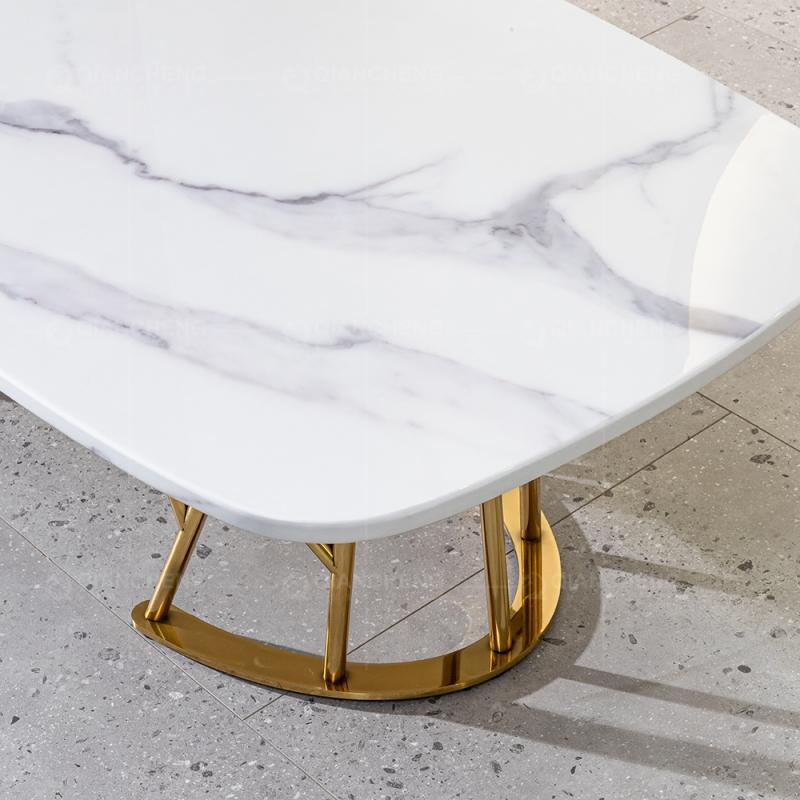 1) Unique Design for Your Needs
Qiancheng Furniture, based in Foshan Guangdong, China, is a reputable manufacturer specializing in stainless steel dining and living room furniture. These metal-based products are designed with modern aesthetics in mind, ensuring that they blend seamlessly with contemporary interiors.
2) High-Quality Materials
Qiancheng's coffee tables boast a stable construction with a choice of marble, stone, or glass tops, supported by a robust base made of metal, stainless steel, or brass. This combination of materials guarantees longevity and resilience, backed by a one-year limited warranty.
3) Customizable Steel Colors: Silver, Gold, Rose Gold, Champagne Gold, Black, etc.
Qiancheng recognizes the importance of personalization, and their coffee tables are no exception. Customers can choose from an array of steel colors, including silver, gold, rose gold, champagne gold, and black, to match their specific needs and preferences. This flexibility allows wholesale buyers, dealers, retailers, and construction companies to cater to various client demands and create unique spaces.
4) OEM\ODM Service
Qiancheng's commitment to customer satisfaction extends to their provision of OEM (Original Equipment Manufacturer) and ODM (Original Design Manufacturer) services. This means that businesses can request custom designs and specifications for the coffee tables, ensuring that each piece is tailored to their requirements. This level of customization sets Qiancheng apart from competitors and adds value to its products.
5) Place of Origin: Foshan Guangdong, China
Qiancheng Furniture is based in Foshan Guangdong, China. They have been manufacturing high-quality furniture for many years and have built a reputation for excellence in the industry. When you purchase a Qiancheng Stainless Steel Coffee Table. You can be confident that you're getting a product that was made with care and attention to detail.
5) Business Type: Manufacture
Qiancheng Furniture is a manufacturer, which means that they have control over the entire production process. This allows them to ensure that every product they create is of the highest quality and meets their exacting standards. When you purchase a Qiancheng Stainless Steel Coffee Table. You can be confident that you're getting a product that was made with care and attention to detail.
6) Warranty: 1 Year Limited
Finally, Qiancheng Furniture offers a 1-year limited warranty on their products. This warranty covers any defects in materials or workmanship and gives you peace of mind knowing that you're getting a quality product that is backed by a reputable company.
Conclusion
Qiancheng Furniture, a renowned manufacturer based in Foshan Guangdong, China, has crafted an exceptional solution for businesses seeking versatile, modern furniture. The Home Furniture Coffee Table (SKU 2067) is a stainless steel table designed to cater to diverse needs.