Are you looking to maximize your profits through wholesale deals? If so, you may want to check out QIANCHENG Dining Room Furniture Factory. QIANCHENG Dining Room Furniture Factory is a leading manufacturer of stainless steel dining and living room furniture.
Their products are made of metal materials, ensuring durability and long-lasting quality. You can benefit from their wholesale deals and boost your profits by offering high-quality furniture to your clients at competitive prices.
In addition to its top-quality products, QIANCHENG Dining Room Furniture Factory also provides exceptional customer service. They are dedicated to meeting their client's needs and delivering their products on time.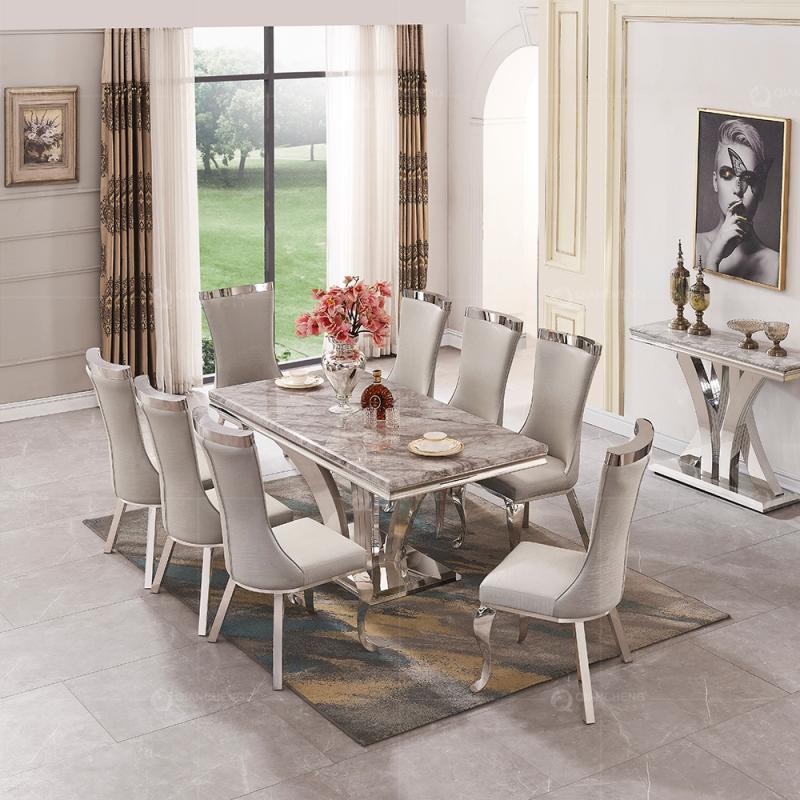 Discover the Advantages of Partnering with QIANCHENG Dining Room Furniture Factory for Your Retail Business
One of the biggest advantages of partnering with QIANCHENG is the quality of its products. They use only the highest quality materials and cutting-edge production techniques to ensure that their furniture is built to last. Additionally, because their products are made of stainless steel rather than wood, they are less susceptible to damage from moisture, insects, or other environmental factors.
Another advantage of working with QIANCHENG is its commitment to customization. They offer a wide variety of styles and designs to choose from, allowing you to select the perfect pieces to match your customers' preferences. Furthermore, they are happy to work with you to create custom pieces that meet your specific needs and requirements.
Finally, QIANCHENG offers competitive pricing and excellent customer service, ensuring that you receive the best possible value for your investment. With their help, you can create a stunning and functional living or dining space that will impress your customers and keep them coming back for more.
From Concept to Delivery: QIANCHENG Dining Room Furniture Factory's End-to-End Production Process
QIANCHENG Dining Room Furniture Factory is a renowned manufacturer of stainless steel dining and living room furniture. Their end-to-end production process is a remarkable feat of efficient and streamlined manufacturing. From concept to delivery, QIANCHENG's production process is a marvel to behold.
If you have a specific design or style in mind, QIANCHENG Dining Room Furniture Factory can help you bring it to life. The company offers customization services that allow customers to specify their preferred design, size, and material for their dining room furniture. This means that you can have a dining room that is truly unique and reflects your personal style.
QIANCHENG Dining Room Furniture Factory has a strict quality control system in place to ensure that its products meet the highest standards of quality. The company uses advanced equipment and techniques to test the durability, stability, and safety of its furniture. Each piece of furniture is inspected thoroughly before it is shipped to customers, ensuring that it meets the company's standards.
8 Seat Rectangular Gold Dining Room Table Mid-Century Modern Furniture: Perfect Solutions to Your Projects
Are you looking for the perfect solution for your next project? Look no further than the 8 Seat Rectangular Gold Dining Room Table from QIANCHENG Dining Room Furniture Factory. This mid-century modern piece is the perfect addition to any dining room or living space.
The 8 Seat Rectangular Gold Dining Room Table Mid Century Modern Furniture features a mid-century modern design with clean lines and a sleek profile. This design is perfect for modern and contemporary homes and adds a touch of sophistication to the dining area. The rectangular shape of the table also allows for easy placement in most dining rooms.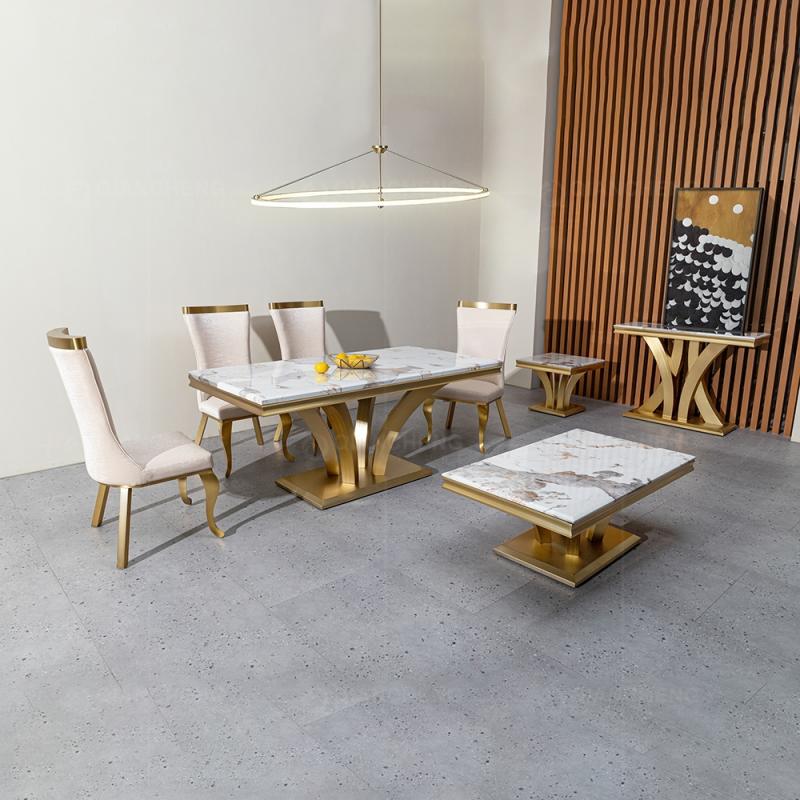 The dining table comes with eight comfortable chairs that feature a padded seat and backrest. The chairs are upholstered in a soft and durable fabric that complements the gold finish of the table's frame. The chairs are also designed to fit seamlessly with the table's mid-century modern style.
This dining table is made of high-quality materials, including a gold stainless steel frame and a tempered glass top. These materials ensure durability and easy maintenance. The gold frame adds an elegant touch to the dining room and complements a variety of decor styles.
Why Do Construction Companies Choose QIANCHENG Dining Room Furniture Factory for Their Residential and Commercial Projects?
1. 200+ Original Design Patents: The Epitome of Innovation
With more than 200 original design patents, QIANCHENG is at the forefront of dining room furniture innovation. Their design team continually works to create new, unique, and stylish products, ensuring that your dining room remains fresh and current. With three new series updated every month, you'll never run out of options for your dining space.
2. Leading-Edge Dining Furniture Technology
QIANCHENG is committed to staying ahead of the curve in dining furniture technology. Their state-of-the-art production processes and cutting-edge designs guarantee that you'll receive the best in quality and innovation when you choose their products.
3. High-Quality Sample Customization Service
At QIANCHENG, they understand the importance of finding the perfect fit for your dining room. That's why they offer high-quality sample customization services, allowing you to see and feel the products before making a decision. This ensures that you can select the perfect piece to complement your space.
4. 100% Inspection Service: Quality Assurance
QIANCHENG takes quality seriously, which is why they provide a 100% inspection service for all their products. This guarantees that every piece of furniture you receive has been thoroughly examined for quality and craftsmanship, ensuring a seamless and enjoyable experience in your dining room.
Conclusion:
Overall, partnering with QIANCHENG Dining Room Furniture Factory is an excellent choice for any retail or wholesale business looking to provide its customers with high-quality, durable, and stylish furniture. Contact them today to learn more about their products and services, and discover the advantages of partnering with the best in the industry.