In today's design landscape, modern metal dining chairs have emerged as a top choice for both residential and commercial spaces. These chairs offer a contemporary and sophisticated aesthetic that effortlessly complements various interior styles, from industrial to minimalist and even transitional. With their clean lines and minimalist forms, modern metal dining chairs add a touch of elegance to any dining area.
Modern Metal Dining Chair Wholesale: Why Should You Choose
When it comes to furnishing a dining space, choosing the right chairs is essential to create an inviting and stylish ambiance. Among the wide variety of options available in the market, modern metal dining chairs have gained significant popularity in recent years. Offering a perfect blend of contemporary design and durability, these chairs have become a favorite choice for many homeowners and businesses alike.
1. Stylish and Versatile Designs
One of the key reasons to choose modern metal dining chairs is the abundance of stylish and versatile designs available. Metal chairs offer a sleek and contemporary look that can effortlessly elevate the aesthetic appeal of any dining space. Whether you have a minimalist, industrial, or modern-themed interior, there is a wide range of options to suit your taste and decor. Qiancheng Furniture, known for its innovative designs, offers an impressive collection of modern metal dining chairs that cater to various design preferences, ensuring you find the perfect match for your dining area.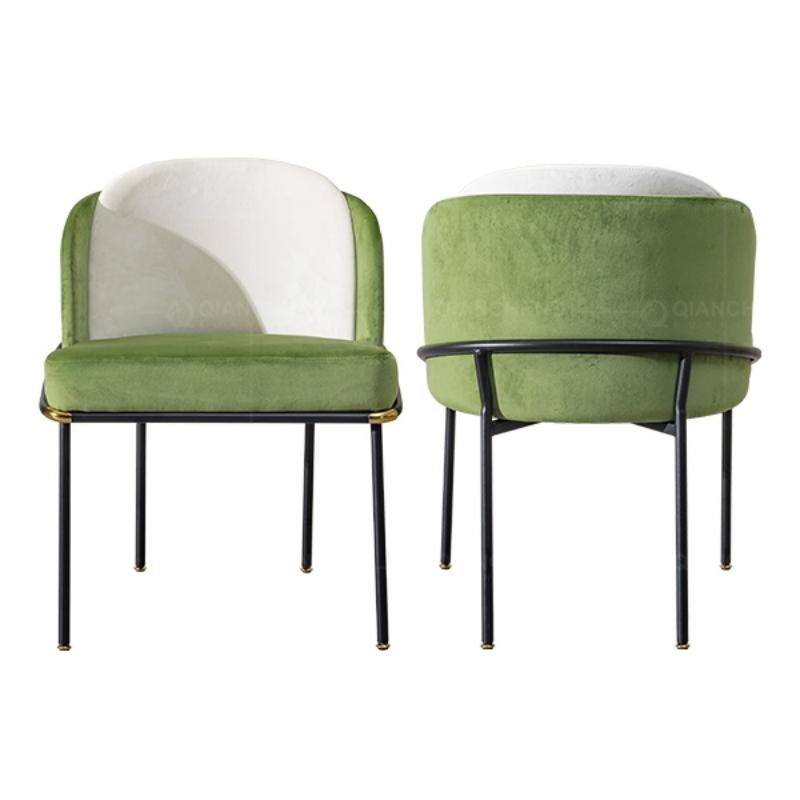 2. Cost-Effective Solution
Opting for modern metal dining chairs wholesale can be a cost-effective solution, especially for businesses or individuals furnishing multiple dining spaces. Buying in bulk from a reputable manufacturer like Qiancheng Furniture allows you to take advantage of discounted prices, making your investment more affordable. Additionally, by choosing chairs that are built to last, you minimize the need for frequent replacements, resulting in long-term cost savings.
3. Comfort and Support
While aesthetic appeal and durability are crucial factors in selecting dining chairs, comfort should not be overlooked. Modern metal dining chairs are designed with ergonomics in mind, providing excellent support for prolonged seating. Qiancheng Furniture pays attention to the comfort aspect of their chairs, incorporating features like padded seats or backrests, allowing you and your guests to enjoy a cozy dining experience. By prioritizing both style and comfort, modern metal dining chairs ensure that your dining space not only looks great but also provides a comfortable seating option.
4. Durability and Longevity
Metal chairs are well-known for their durability and longevity, making them an excellent investment for both residential and commercial settings. Unlike other materials, such as wood or plastic, metal chairs are resistant to wear and tear, ensuring they withstand heavy use without losing their charm. Qiancheng Furniture takes pride in its commitment to producing high-quality products, using premium-grade materials, and employing rigorous manufacturing processes. By choosing modern metal dining chairs wholesale from Qiancheng Furniture, you can be assured of investing in chairs that will stand the test of time, providing comfort and style for years to come.
5. Ease of Maintenance
The advantage of modern metal dining chairs is their ease of maintenance. Unlike fabric or upholstered chairs, metal chairs are relatively easy to clean and keep in pristine condition. Spills and stains can be quickly wiped away with a damp cloth, and their smooth surfaces make it difficult for dirt and dust to accumulate. This aspect is particularly beneficial for commercial establishments such as restaurants or cafes, where frequent cleaning is necessary. By opting for modern metal dining chairs wholesale, you can ensure a hassle-free maintenance routine, saving both time and effort.
Qiancheng Furniture: A Leading Manufacturer of Modern Metal Dining Chair Wholesale
Qiancheng Furniture has established itself as a reputable manufacturer and wholesale distributor of modern metal dining chairs. With a commitment to quality craftsmanship and attention to detail, Qiancheng Furniture produces chairs that meet the highest industry standards.
I. Unparalleled Craftsmanship:
Qiancheng Furniture takes pride in its unparalleled craftsmanship, ensuring that every metal dining chair produced meets the highest standards of quality. The company employs a team of skilled artisans who possess a deep understanding of metalworking techniques and the ability to transform raw materials into elegant and sturdy dining chairs. By employing state-of-the-art technology and adhering to stringent quality control measures, Qiancheng Furniture ensures that its products are built to last.
II. Innovative Design:
One of the defining features of Qiancheng Furniture is its commitment to innovative design. Understanding the importance of aesthetics in modern interior design, the company constantly strives to create metal dining chairs that are not only functional but also visually appealing. Qiancheng Furniture's design team keeps up with the latest trends and incorporates them into their chair designs, offering customers a wide range of contemporary styles to choose from. Whether it's sleek minimalism, industrial chic, or retro charm, Qiancheng Furniture has a design to suit every taste.
III. Customization Options:
Recognizing that every dining space is unique, Qiancheng Furniture offers customization options for its metal dining chairs. This allows customers to tailor the chairs to their specific requirements, ensuring seamless integration into their interior design scheme. From selecting the type of metal finish to choosing the upholstery fabric, Qiancheng Furniture empowers its clients to create personalized dining chairs that reflect their individual styles and preferences. The ability to customize its products sets Qiancheng Furniture apart from its competitors and contributes to its reputation as a customer-centric manufacturer.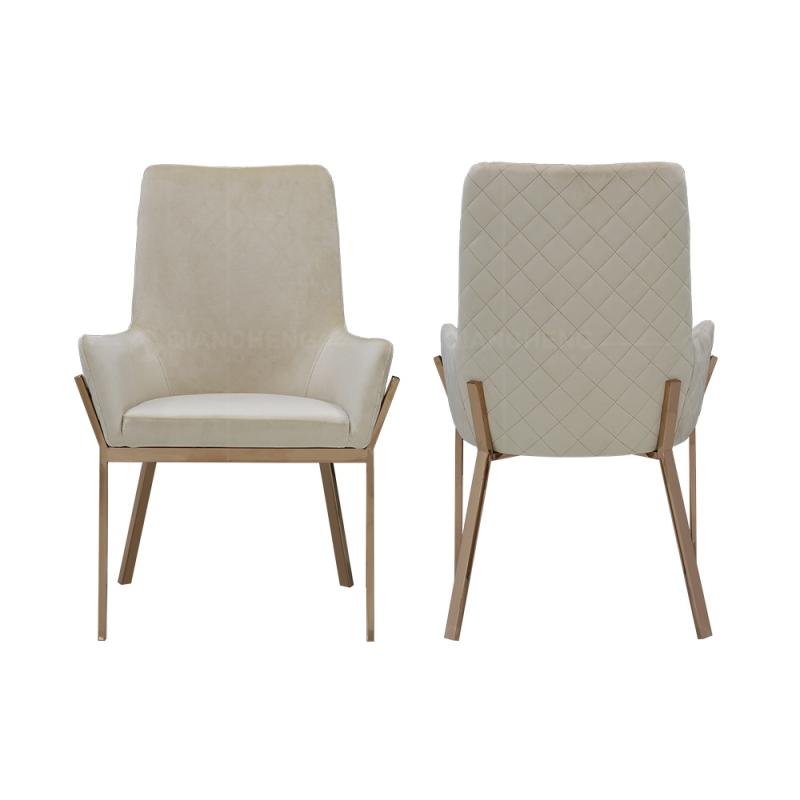 IV. Superior Customer Service:
Qiancheng Furniture places a strong emphasis on delivering superior customer service. The company understands the importance of building long-term relationships with its clients, and thus, goes the extra mile to ensure their satisfaction. From the initial inquiry to the final delivery, Qiancheng Furniture's dedicated customer service team is readily available to address any concerns, answer queries, and provide assistance throughout the entire process. Their commitment to excellent service has earned them a loyal customer base and positive testimonials.
V. Competitive Wholesale Pricing:
Qiancheng Furniture's commitment to providing high-quality metal dining chairs at competitive wholesale prices is another reason for its success. By manufacturing its products in-house and maintaining efficient production processes, Qiancheng Furniture can offer its customers attractive pricing without compromising on quality. This makes Qiancheng Furniture an ideal partner for retailers, interior designers, and hospitality businesses looking to source modern metal dining chairs in bulk.
Conclusion
Modern metal dining chairs have become a staple in contemporary interior design, thanks to their combination of style, durability, and ease of maintenance. Qiancheng Furniture, a renowned manufacturer in the industry, offers a wide selection of high-quality metal dining chairs that cater to diverse design preferences. Whether you're furnishing a trendy restaurant or revamping your home dining area, modern metal dining chairs from Qiancheng Furniture are a reliable choice that guarantees both aesthetic appeal and long-lasting performance.