In the realm of furniture design, few creations can match the allure of a custom-made coffee table. It's a centerpiece that not only serves practical purposes but also adds a touch of elegance and sophistication to any living space. When it comes to the art of crafting custom metal coffee tables, Qiancheng Furniture stands at the forefront. With their impeccable craftsmanship and a keen eye for detail, they transform raw materials into exquisite masterpieces. Join us as we delve into the world of Qiancheng Furniture, exploring their process, expertise, and the captivating coffee tables they bring to life.
1. Unveiling the Artisan: Qiancheng Furniture:
Qiancheng Furniture is a renowned manufacturer specializing in custom metal coffee tables. With a rich heritage spanning several decades, they have honed their skills to perfection, becoming a go-to destination for individuals seeking exceptional furniture pieces. From modest beginnings as a small workshop, Qiancheng Furniture has flourished into a prestigious brand, synonymous with quality, innovation, and creativity. Their commitment to customer satisfaction and unparalleled craftsmanship has earned them a loyal clientele worldwide.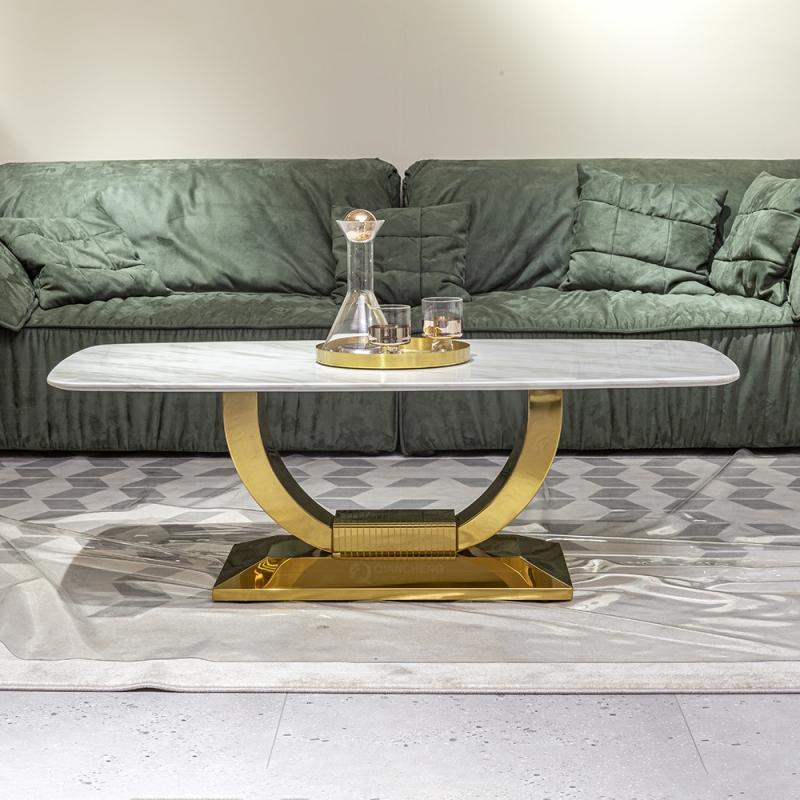 2. Crafting Excellence: The Process:
At the heart of Qiancheng Furniture's success lies its meticulous and intricate crafting process. Every coffee table they produce undergoes a journey that blends artistry with technical expertise. It begins with an initial consultation, where clients can share their vision and specifications. Skilled artisans at Qiancheng Furniture then transform these ideas into detailed designs, ensuring every element aligns seamlessly. Once the design is finalized, the manufacturing process commences, combining cutting-edge technology and traditional handcrafting techniques. From shaping the metal frames to meticulously welding the joints and carefully selecting the finest finishes, every step is executed with utmost precision.
3. Unleashing Creativity: Customization Options:
Qiancheng Furniture takes pride in offering an array of customization options, allowing clients to bring their unique visions to life. Whether it's choice of metal, the table's dimensions, or the incorporation of personalized accents, their team of skilled craftsmen ensures every detail reflects the client's distinct taste and style. From sleek and minimalist designs to intricate and ornate patterns, Qiancheng Furniture has the versatility to cater to a wide range of aesthetic preferences. With their expertise and attention to detail, they transform each coffee table into a work of art, tailor-made to enhance the ambiance of any space.
4. Exquisite Designs: Showcasing the Collection:
The Qiancheng Furniture collection boasts an impressive array of designs that exemplify their commitment to exceptional craftsmanship. From industrial-inspired designs featuring raw, brushed steel frames to contemporary marvels incorporating elegant glass and marble accents, their coffee tables exude a timeless appeal. Each piece is meticulously crafted to harmonize with diverse interior styles, whether it's a modern loft, a classic living room, or a chic office space. Qiancheng Furniture's dedication to blending form and function results in coffee tables that not only elevate the aesthetics of a room but also provide a practical surface for daily use.
Custom Metal Coffee Table Maker: Customized Solutions for Your Business
In today's competitive business landscape, standing out from the crowd is essential for success. When it comes to furnishing your business space, a custom metal coffee table can add a touch of elegance and uniqueness that sets you apart. Qiancheng Furniture, a renowned manufacturer specializing in custom metal coffee tables, offers tailored solutions to meet your specific business needs.
1. Unleashing Creativity through Customization:
1.1 Elevating Your Brand Image:
Enhancing Aesthetics: A customized metal coffee table can serve as a visual centerpiece, reflecting your brand's identity and style. Qiancheng Furniture understands the importance of aesthetics and ensures that each table is meticulously crafted to match your business's theme and ambiance.
Imprinting Your Logo: Personalize your coffee table with your company logo or any other branding elements. This not only adds a professional touch but also reinforces brand recognition among your clients and visitors.
1.2 Tailored Dimensions and Functionalities:
Optimizing Space: Qiancheng Furniture offers custom dimensions to fit any specific space requirements. Whether you have a compact reception area or a sprawling lounge, their expertise lies in crafting coffee tables that maximize functionality without compromising on style.
Incorporating Storage Solutions: Need a coffee table with built-in drawers or shelves? Qiancheng Furniture can design and manufacture custom metal coffee tables with storage options, allowing you to keep your business essentials neatly organized.
2. Craftsmanship and Material Selection:
2.1 Expert Craftsmanship:
Attention to Detail: Qiancheng Furniture takes pride in its commitment to impeccable craftsmanship. Each coffee table is meticulously handcrafted by skilled artisans, ensuring exceptional quality and attention to detail.
Superior Finishing: The custom metal coffee tables produced by Qiancheng Furniture undergo rigorous finishing processes, resulting in a flawless surface and exquisite appearance.
2.2 Material Selection:
Durability and Strength: Qiancheng Furniture utilizes high-quality metals such as stainless steel or brass, ensuring the longevity and sturdiness of their coffee tables. These materials are chosen for their resistance to corrosion, making them ideal for commercial settings.
Versatility: With an array of metal finishes and colors available, Qiancheng Furniture offers endless possibilities to match your business's aesthetic preferences. From sleek and modern to industrial and rustic, their team can transform your vision into reality.
3. Collaboration and Customer Satisfaction:
3.1 Collaborative Design Process:
a. Understanding Your Vision: Qiancheng Furniture believes in close collaboration with its clients. Their team of designers will work closely with you to understand your vision, incorporating your ideas and preferences into the coffee table design.
b. OEM Service:
By choosing the OEM service, you can have Qiancheng Furniture manufacture coffee tables based on your design specifications. They have the necessary expertise, resources, and production capabilities to bring your vision to reality, ensuring that the final product matches your requirements in terms of design, materials, finishes, and functionality.
c. ODM Service: If you opt for the ODM service, Qiancheng Furniture can provide you with a range of pre-designed coffee table options that can be customized to suit your brand's aesthetic and target market. Their designers will work closely with you to modify and adapt the existing designs, incorporating your unique elements and preferences to create a coffee table that stands out in the market.
3.2 Timely Delivery and Installation:
Reliable Manufacturing Process: Qiancheng Furniture values your time and strives to deliver your custom metal coffee table within the agreed-upon timeframe. Their streamlined manufacturing process ensures efficient production without compromising on quality.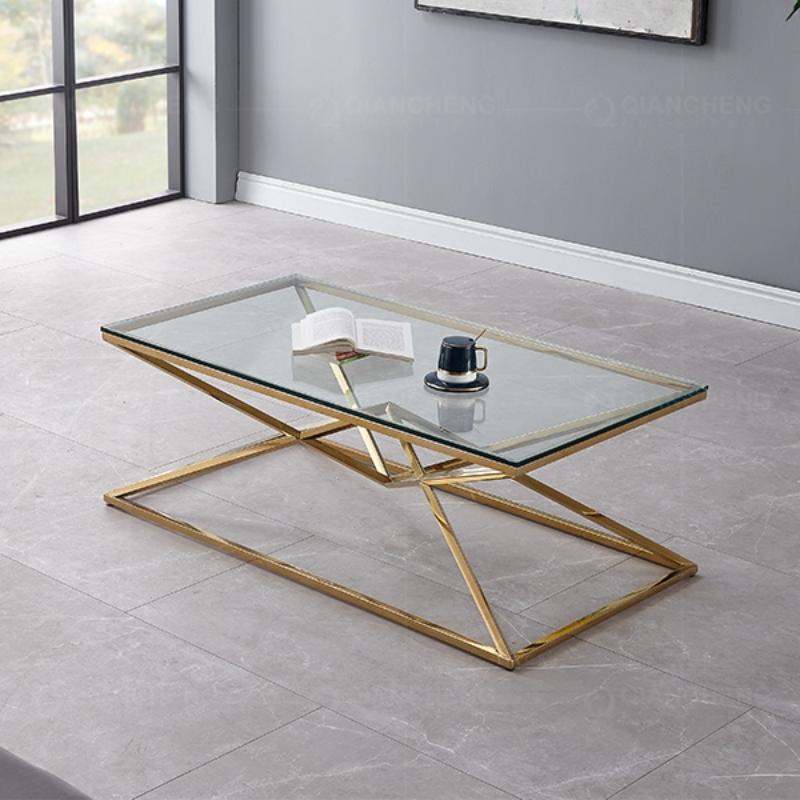 Professional Installation: The team at Qiancheng Furniture can handle the installation of your coffee table, ensuring that it fits seamlessly into your business space. Their experts will ensure a hassle-free experience, saving you time and effort.
Conclusion
When it comes to furnishing your business with custom metal coffee tables, Qiancheng Furniture is a trusted partner that delivers exceptional craftsmanship, personalized designs, and reliable customer service. By collaborating closely with their clients and offering tailored solutions, they bring your vision to life, elevating your brand image and creating a unique atmosphere. With Qiancheng Furniture's expertise, you can transform your business space into a captivating environment that leaves a lasting impression on your clients and visitors.