When it comes to setting up a restaurant, one of the most crucial aspects to consider is the furniture. The right furniture not only enhances the overall ambiance but also provides comfort to your customers. If you are in the market for restaurant furniture, you might have come across Qiancheng Furniture, a reputable manufacturer known for their high-quality stainless steel furniture sets. To help you make an informed decision, this blog post will answer some frequently asked questions about Qiancheng Furniture and their restaurant furniture sets.
1. Who is Qiancheng Furniture?
Qiancheng Furniture is a prominent manufacturer specializing in restaurant furniture sets. They have established a strong reputation in the industry for producing top-notch furniture crafted from stainless steel. With a commitment to excellence, Qiancheng Furniture focuses on delivering durable and stylish furniture solutions to restaurant owners worldwide.
2. Why should I choose stainless steel furniture for my restaurant?
Stainless steel is a popular material choice for restaurant furniture due to its numerous advantages. It is known for its exceptional durability, resistance to corrosion, and ease of maintenance. Stainless steel furniture is also highly versatile, blending well with various restaurant themes and designs. Furthermore, it offers a sleek and modern look that appeals to customers and conveys a sense of cleanliness and professionalism.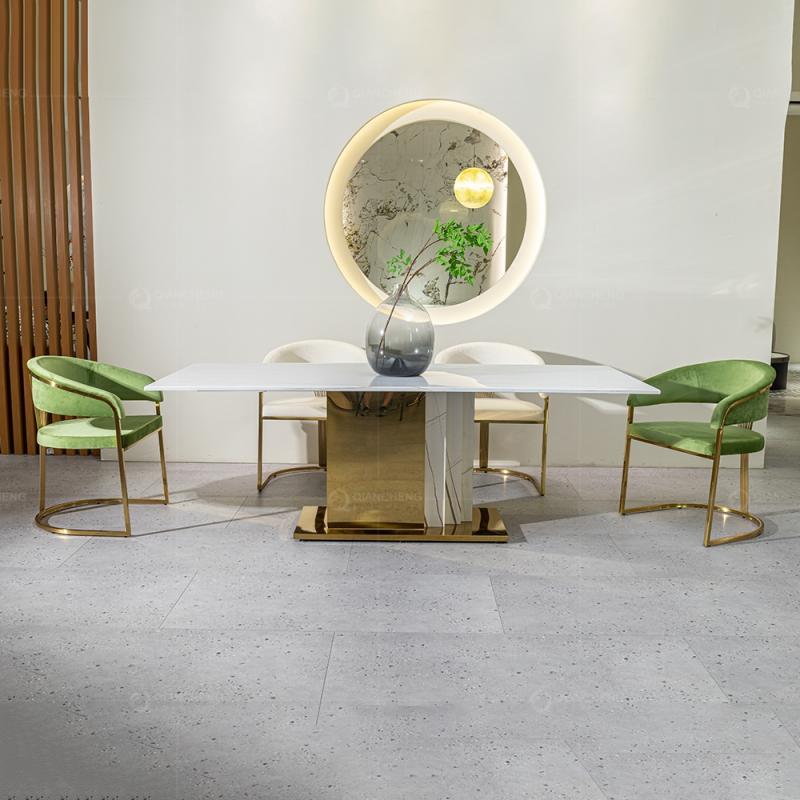 3. What types of furniture sets does Qiancheng Furniture offer?
Qiancheng Furniture offers a wide range of furniture sets designed specifically for restaurant use. Their collection includes dining tables, chairs, bar stools, booth seating, and outdoor furniture sets. Whether you are looking for a complete set or individual pieces to complement your existing furniture, Qiancheng Furniture has options to suit your needs.
4. Can I customize the furniture according to my restaurant's theme?
Yes, Qiancheng Furniture understands the importance of customization to match your restaurant's unique style. They offer customization options for their furniture sets, allowing you to choose different sizes, finishes, and even upholstery materials. By working closely with their design team, you can create a cohesive and personalized look that aligns with your restaurant's branding and atmosphere.
5. Is Qiancheng Furniture committed to sustainability?
Absolutely! Qiancheng Furniture takes sustainability seriously. They are dedicated to using eco-friendly manufacturing practices and materials. Stainless steel, the primary material used in their furniture sets, is recyclable, making it an environmentally responsible choice. Qiancheng Furniture also emphasizes energy efficiency in their production processes and strives to minimize waste throughout their operations.
6. How does Qiancheng Furniture ensure the quality of their furniture sets?
Qiancheng Furniture prides itself on delivering high-quality products to its customers. They achieve this by employing skilled craftsmen who meticulously manufacture each piece of furniture. Additionally, the company conducts rigorous quality control checks at various stages of the production process to ensure that every item meets its strict standards. By adhering to stringent quality control measures, Qiancheng Furniture guarantees that its furniture sets are reliable, durable, and built to last.
To place an order with Qiancheng Furniture, you can visit their official website or contact their sales team directly. Their website provides comprehensive information about their furniture sets, including specifications and customization options. If you have specific requirements or need assistance in choosing the right furniture for your restaurant, their knowledgeable sales representatives will be more than happy to guide you through the selection and ordering process.
Qiancheng Furniture – Crafting Exquisite Restaurant Furniture Set Manufacturer
When it comes to furnishing restaurants with elegant and durable furniture, Qiancheng Furniture stands out as a leading manufacturer in the industry. With a focus on OEM and ODM home furniture, this renowned company has been creating exquisite restaurant furniture sets for over 13 years. Their commitment to quality, innovative design, and exceptional service has earned them a stellar reputation among customers worldwide.
1. Unparalleled Expertise and Innovations
Qiancheng Furniture boasts an impressive track record in the industry, with over 200 original design patents to their name. Their team of skilled designers and craftsmen consistently delivers fresh and innovative concepts, ensuring that the company releases three new furniture series every month. This dedication to staying ahead of trends and continuously updating their offerings allows Qiancheng Furniture to cater to the evolving needs and preferences of restaurant owners and operators.
2. Leading-edge Manufacturing Technology
At Qiancheng Furniture, producing dining furniture is not just an art form but also a display of technological expertise. The company's manufacturing facilities span an impressive 23,000 square meters, housing a team of more than 200 experienced workers. With over a decade of experience in the industry, Qiancheng Furniture has mastered the production of restaurant furniture, and their technology is at the forefront of the field. This ensures that each piece they create meets the highest standards of quality and craftsmanship.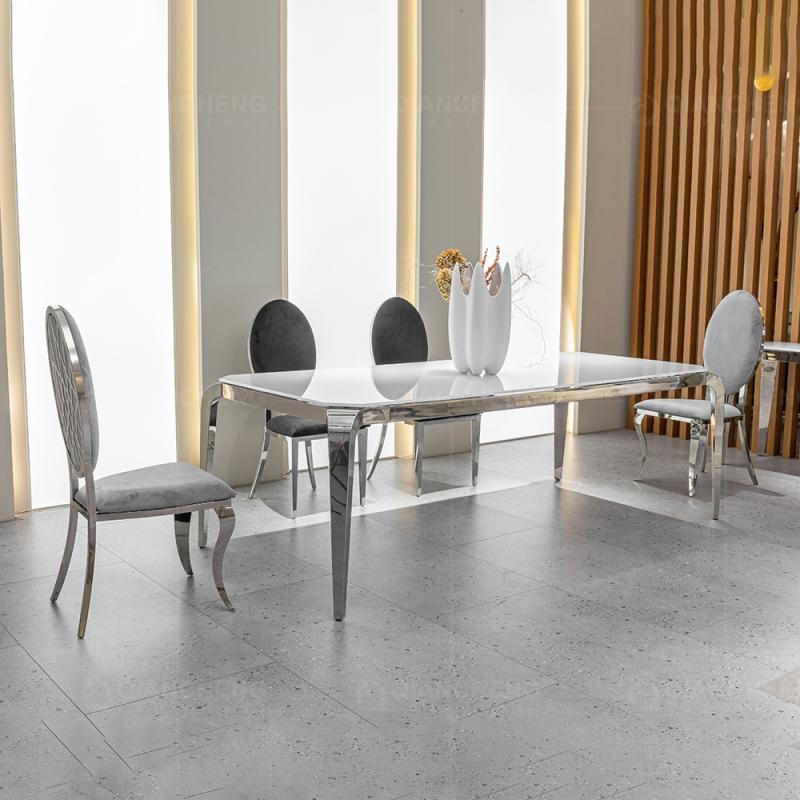 3. Customization and Quality Assurance
One of the key strengths of Qiancheng Furniture is their commitment to providing a high-quality sample customization service. They understand that every restaurant has its unique ambiance and style, and they excel at translating those requirements into tailor-made furniture solutions. From selecting the finest materials to incorporating intricate details, their attention to detail guarantees that each furniture set is a perfect fit for the establishment it adorns.
Additionally, Qiancheng Furniture places great emphasis on quality assurance. With a 100% inspection service, they leave no stone unturned in ensuring that every piece of furniture leaving their factory meets their rigorous standards. This dedication to quality has been recognized by various certifications, including being honored as a High-tech Enterprise and an Alibaba Five-star Merchant. Qiancheng Furniture's commitment to providing the best products and services is further exemplified by their receipt of the Credit Insurance Pioneer Award and the title of High-Quality Supplier.
4. A Trustworthy Light Luxury Furniture Enterprise
At the core of Qiancheng Furniture's corporate culture is their mission to enable customers to enjoy a diversified light luxury quality home life at a lower cost. They strive to be the world's most trusted light luxury furniture enterprise, consistently innovating to create value for customers while prioritizing the interests of their employees. Qiancheng Furniture understands that by continuously working hard and creating value for society, they can establish lasting relationships with their customers and maintain their position as a top-tier manufacturer.
Conclusion
In conclusion, Qiancheng Furniture sets the standard for excellence in restaurant furniture manufacturing. With their unwavering commitment to quality, a constant stream of innovative designs, and a dedication to customer satisfaction, they have earned their place as a reputable industry leader. When restaurant owners and operators choose Qiancheng Furniture, they can rest assured that they are investing in furniture sets that will enhance the ambiance and durability of their establishments, while simultaneously elevating the dining experience for their guests.