When it comes to selecting a stainless steel dining room set manufacturer, it's essential to consider factors such as quality, craftsmanship, design options, and reliability. With numerous manufacturers in the market, finding the right one can be a daunting task. In this guide, we will explore the key factors to consider when choosing a stainless steel dining room set manufacturer and highlight the outstanding qualities of Qiancheng Furniture.
Selecting the right stainless steel dining room set manufacturer requires careful consideration of various factors, including the quality of materials, craftsmanship, customization options, durability, and customer reviews. Qiancheng Furniture, known for its high-grade materials, exquisite craftsmanship, customization options, and positive customer feedback, exemplifies the qualities of an exceptional manufacturer. By choosing a reputable manufacturer like Qiancheng Furniture, you can confidently invest in stainless steel dining room sets.
I. Quality and Craftsmanship
When investing in a dining room set, it's crucial to prioritize quality and craftsmanship. Look for manufacturers that have a reputation for using high-grade stainless steel, which is durable and resistant to corrosion. Examine the finishing details, such as smooth welds and polished surfaces, as they indicate superior craftsmanship. Qiancheng Furniture is renowned for its commitment to excellence, ensuring each piece is meticulously crafted with attention to detail.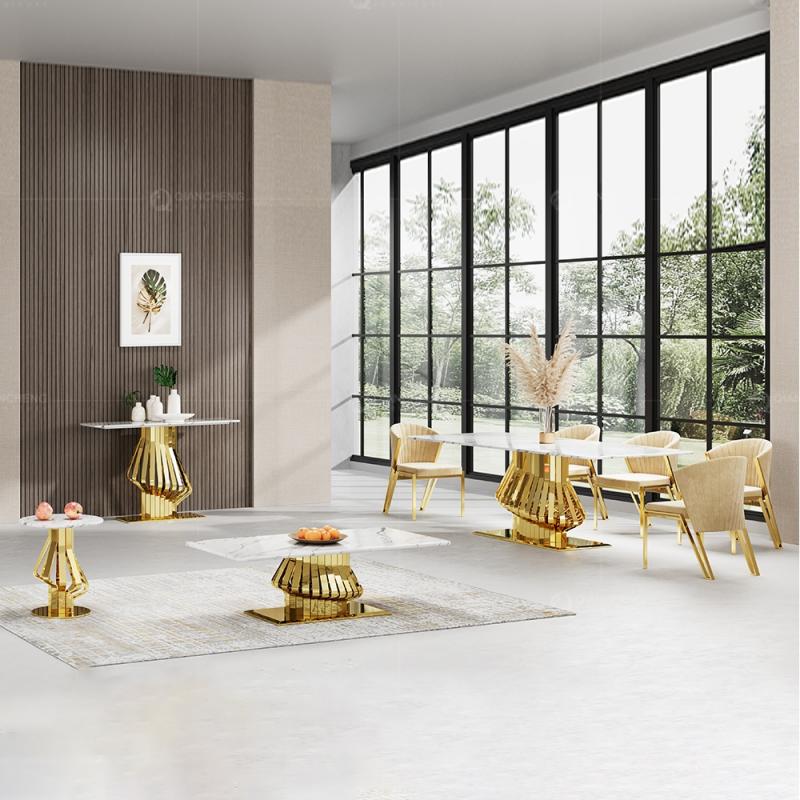 II. Design Options and Customization
Every dining room has a unique style, and choosing a manufacturer that offers a wide range of design options is essential. Look for manufacturers that provide various styles, sizes, and configurations to suit your preferences and space requirements. Whether you prefer a modern, minimalist look or a more traditional aesthetic, Qiancheng Furniture offers a diverse selection of stainless steel dining room sets that can be customized to fit your specific needs.
III. Durability and Functionality
A dining room set should be built to withstand daily use and last for years to come. Manufacturers who prioritize durability and functionality are worth considering. Stainless steel is an excellent choice for its sturdiness and resistance to stains and scratches. Additionally, look for manufacturers that offer features like adjustable table heights or extension leaves for versatility. Qiancheng Furniture designs its dining room sets with longevity in mind, ensuring they are not only aesthetically pleasing but also practical and durable.
IV. Customer Reviews and Reputation
Before finalizing your decision, take the time to research customer reviews and the manufacturer's reputation in the industry. Genuine customer feedback can provide valuable insights into product quality, customer service, and overall satisfaction with the manufacturer. Qiancheng Furniture has established a strong reputation for producing high-quality stainless steel dining room sets and providing excellent customer service, making them a trusted choice among buyers.
V. Affordability and Value
While quality and craftsmanship are paramount, it's also important to consider the affordability and value offered by the manufacturer. Look for manufacturers that offer competitive pricing without compromising on quality. Qiancheng Furniture strives to provide exceptional value for its customers, offering well-crafted stainless steel dining room sets at competitive prices.
Why Should You Choose Qiancheng Furniture as Your Stainless Steel Dining Room Set Manufacturers?
Qiancheng Furniture is a renowned manufacturer specializing in luxury home furniture, with a strong focus on stainless steel dining room sets. With over 13 years of industry experience, Qiancheng has established itself as a trusted name in the field. This blog post will delve into the key features that make Qiancheng Furniture stand out as a leading manufacturer in the market.
1. Original Design Patents:
Qiancheng Furniture takes pride in its extensive collection of over 200 original design patents. This emphasis on innovation allows them to offer unique and aesthetically appealing dining room sets that set them apart from their competitors. By continuously developing new designs, Qiancheng ensures that customers have access to the latest trends and styles in the industry.
2. Cutting-Edge Production Technology:
Qiancheng Furniture places great importance on producing dining furniture that meets the highest standards of quality. Their production technology is at the leading edge, enabling them to deliver durable and visually striking stainless steel dining sets. By utilizing advanced manufacturing techniques, Qiancheng ensures that their products are built to last, providing customers with furniture that withstands the test of time.
3. High-Quality Sample Customization:
Understanding that every customer has unique preferences, Qiancheng offers a high-quality sample customization service. This allows customers to personalize their dining room sets according to their specific requirements. Whether it's selecting the upholstery, finishes, or other design elements, Qiancheng ensures that customers can create their dream dining space.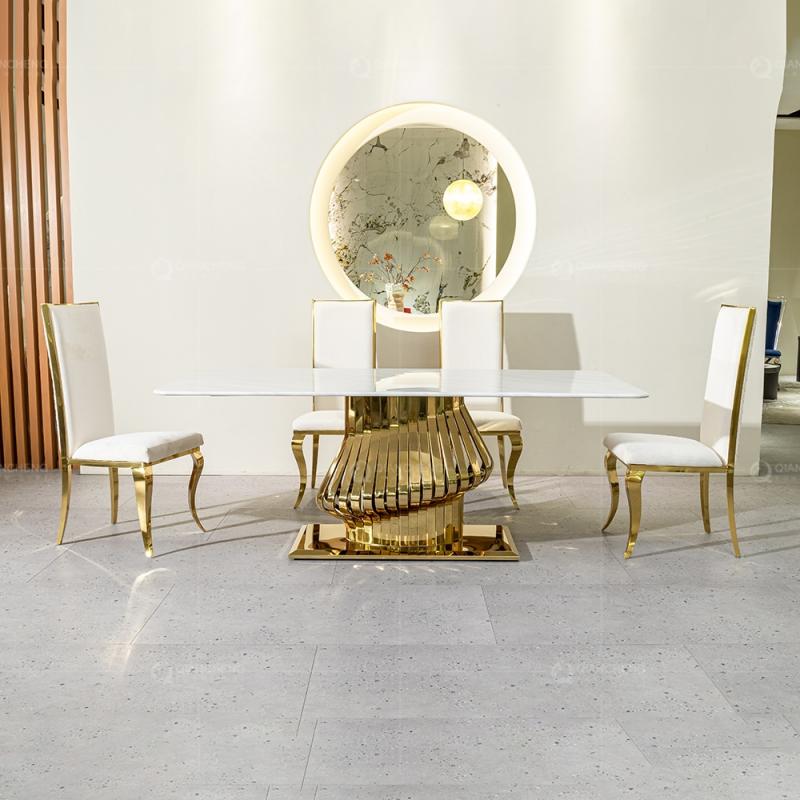 4. Commitment to Excellence:
100% Inspection Service: Qiancheng Furniture goes the extra mile to guarantee the quality of their products. Every piece undergoes a meticulous 100% inspection service to ensure it meets the highest standards. This dedication to quality control ensures that customers receive flawless and well-crafted dining sets, providing them with long-lasting enjoyment and satisfaction.
5. Impressive Manufacturing Capabilities:
State-of-the-Art Facilities: Qiancheng Furniture operates from a sprawling factory area spanning 23,000 square meters. This extensive manufacturing space allows them to streamline production processes, ensuring efficient and timely delivery of their products. With a team of over 200 skilled workers, Qiancheng is well-equipped to handle large-scale manufacturing demands.
Output and Recognition: Qiancheng's impressive manufacturing capabilities are reflected in their annual production output. With 1,200 containers (40HQ) being produced each year, they demonstrate their commitment to meeting the demands of their global clientele. Moreover, Qiancheng Furniture has been recognized as a high-quality supplier and has received several prestigious honors, including the High-tech Enterprise Certificate and the Alibaba Five-star Merchant certification.
Conclusion
Choosing the right stainless steel dining room set manufacturer involves considering factors such as quality, craftsmanship, design options, durability, customer reviews, and affordability. Qiancheng Furniture stands out as an excellent choice, delivering superior stainless steel dining room sets that meet the highest standards. Their commitment to quality, extensive design options, durability, and exceptional customer service make them a reliable manufacturer to consider for your dining room set needs.