In the ever-evolving world of furniture design and interior decor, retailers often seek inspiration and valuable insights to stay ahead in the industry. One particular area of interest is stainless steel home furniture, which adds a touch of modern elegance to any living space. In this blog, we will explore the offerings of Qiancheng Furniture, a wholesale factory renowned for its innovative designs and high-quality stainless steel furniture. Join us as we delve into the world of furniture design and interior decor, exploring the possibilities and benefits of incorporating stainless steel furniture into various interior styles.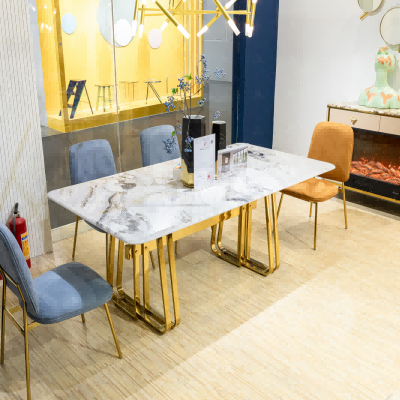 Unveiling Qiancheng Furniture: The Leading Wholesale Manufacturer
Qiancheng Furniture is a prominent name in the furniture manufacturing industry, specializing in stainless steel home furniture. With their state-of-the-art factory and a team of skilled craftsmen, they have earned a reputation for excellence and innovation. Their extensive range of furniture includes sofas, chairs, tables, beds, and much more, all crafted with precision and attention to detail. Whether it's contemporary, minimalist, or industrial styles, Qiancheng Furniture offers versatile options to cater to diverse customer preferences.
A Versatile Range of Furniture:
Qiancheng Furniture understands that every interior has its unique style and demands, and therefore offers a versatile range of stainless steel home furniture. Whether you prefer contemporary, minimalist, or industrial designs, Qiancheng Furniture has something to suit your taste. Their extensive collection includes TV stands, chairs, tables, and much more, all thoughtfully designed to enhance the aesthetics and functionality of any space. With a wide selection of finishes, upholstery options, and customizable features, customers have the freedom to create a truly personalized interior decor scheme.
Wholesale Advantage:
As a leading wholesale manufacturer, Qiancheng Furniture offers numerous advantages to its clients. Businesses and individuals looking to furnish their spaces benefit from competitive pricing, enabling them to maximize their budget without compromising on quality. The ability to purchase furniture in bulk quantities further simplifies the procurement process, saving time and effort. Qiancheng Furniture's streamlined production and efficient logistics ensure timely delivery, making them a reliable partner for both small-scale and large-scale projects.
Embracing Stainless Steel Furniture: Style and Durability Combined
Stainless steel furniture is gaining popularity among interior designers and homeowners alike and for good reason. Its sleek and clean lines complement modern and minimalist design aesthetics, while also providing durability and longevity. The inherent strength of stainless steel ensures that the furniture remains sturdy and resistant to corrosion, making it ideal for both residential and commercial spaces. Qiancheng Furniture's commitment to using high-quality stainless steel guarantees longevity and customer satisfaction.
Versatility and Adaptability: From Residential to Commercial Spaces
Stainless steel furniture's versatility is another factor that contributes to its growing popularity. Its ability to seamlessly transition from residential to commercial spaces makes it a valuable choice for designers and homeowners alike. Whether it's furnishing a contemporary home, an upscale restaurant, or a sleek office space, stainless steel furniture offers a consistent and sophisticated look across different environments. Qiancheng Furniture's wholesale factory production ensures a steady supply of stainless steel furniture to cater to various design needs.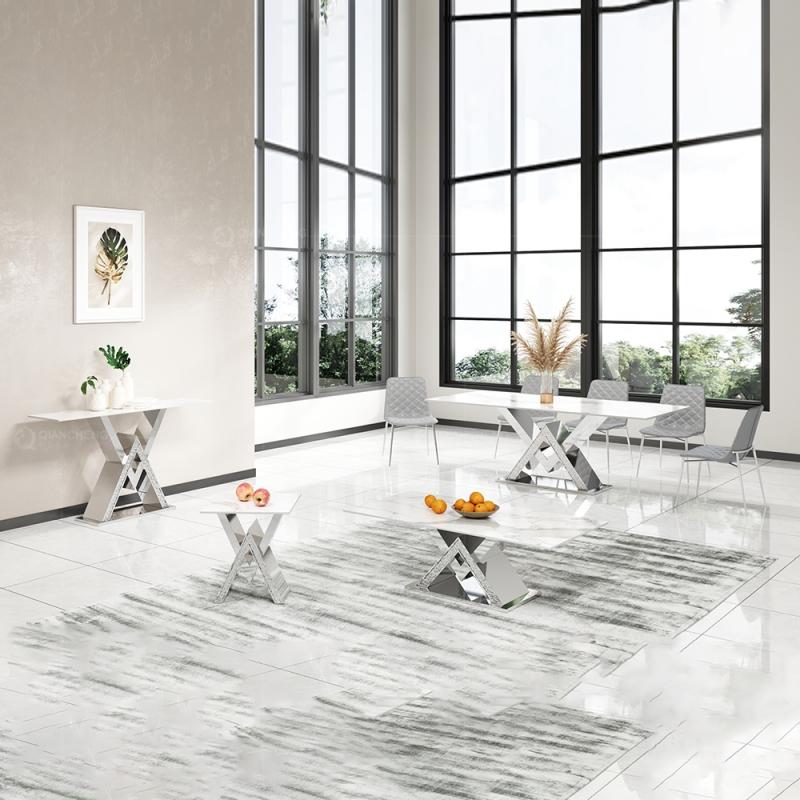 Maintenance Made Easy: Resistant to Corrosion
One of the notable advantages of stainless steel furniture is its resistance to corrosion. Unlike other materials that may succumb to the effects of moisture or humidity, stainless steel maintains its integrity, making it suitable for both indoor and outdoor use. Additionally, stainless steel's smooth surface is easy to clean and maintain, saving both time and effort. Qiancheng Furniture's commitment to using high-quality stainless steel ensures that its furniture retains its resistance to corrosion, further solidifying its reputation for durability.
Incorporating Stainless Steel Furniture into Different Interior Styles
One of the most exciting aspects of stainless steel furniture is its versatility in complementing various interior styles. In a contemporary setting, stainless steel accents can add a touch of sophistication, while in an industrial-themed space, they can enhance the raw and edgy ambiance. When combined with other materials like glass or wood, stainless steel furniture creates a harmonious balance, blending seamlessly into the overall decor. Qiancheng Furniture's extensive range of designs and finishes allows retailers to curate a diverse selection to suit different customer preferences and interior styles.
The Versatility of Stainless Steel:
One of the key advantages of stainless steel furniture is its versatility in blending with various interior styles. By incorporating stainless steel pieces with other materials like wood, glass, or fabric, designers can achieve a harmonious balance. Qiancheng Furniture understands this need and offers a diverse range of designs and finishes. Whether it's a rustic farmhouse interior or a Scandinavian-inspired space, retailers can find stainless steel furniture that seamlessly integrates into these styles, attracting a wider customer base.
Durability and Maintenance:
Aside from its aesthetic appeal, stainless steel furniture also offers practical benefits. Stainless steel is known for its durability, making it an excellent choice for furniture that withstands daily use. Qiancheng Furniture uses high-quality stainless steel materials and ensures excellent craftsmanship to create sturdy and long-lasting pieces. Additionally, stainless steel is easy to clean and maintain, making it ideal for busy households or commercial spaces.
Creating Appealing Display Setups in Retail Spaces
For retailers in the furniture industry, the way products are showcased plays a crucial role in attracting customers. A well-thought-out display setup can elevate the appeal of stainless steel furniture and create a captivating shopping experience. Incorporating other elements such as lighting, textured fabrics, and complementary accessories can help customers visualize how the furniture would look in their own homes. Qiancheng Furniture provides guidance and support to retailers in creating enticing display setups, ensuring that their stainless steel furniture stands out and entices potential buyers.
Stainless Steel in Contemporary Interior Styles:
In contemporary interior design, clean lines and a minimalist approach take center stage. Stainless steel furniture seamlessly blends into this style by adding a touch of sophistication and modernity. Qiancheng Furniture's collection offers sleek stainless steel tables, chairs, and shelving units that provide a sleek and polished look. With the right combination of stainless steel and other materials like glass or leather, retailers can curate a contemporary collection that appeals to customers seeking a modern aesthetic for their living spaces.
Enhancing Industrial-themed Spaces:
Industrial interior styles embrace raw and edgy elements, often featuring exposed brick, concrete, and metal. Stainless steel furniture serves as a natural fit for this design theme, contributing to the overall industrial ambiance. Qiancheng Furniture's range of stainless steel industrial-style coffee tables, bookshelves, and stools can be paired with distressed leather or reclaimed wood to create a striking contrast. This combination adds depth and character to industrial spaces, making them visually appealing and functional.
Conclusion:
As retailers navigate the world of furniture design and interior decor, Qiancheng Furniture stands as a reliable partner in the quest for high-quality stainless steel home furniture. With their innovative designs, commitment to durability, and expertise in creating appealing display setups, they offer a comprehensive solution for retailers seeking to incorporate stainless steel furniture into their product offerings. By embracing the versatility and elegance of stainless steel, retailers can captivate customers and enhance their interior decor collections. Qiancheng Furniture's wholesale factory serves as a valuable resource, inspiring retailers to stay ahead in the ever-evolving furniture industry.