Qiancheng is China's top ten dining furniture manufacturer:
Among the wide range of products, dining tables have a special place in the hearts of consumers worldwide. With many Chinese dining table manufacturers carving out a niche in the market, it cannot be easy to know which ones are worth your attention. China has long been known for its rich history and culture but has also emerged as a major player in the global furniture manufacturing industry. One of the top ten furniture producers is Qiancheng, who specializes in dining furniture such as dining tables, dining chairs, coffee tables, and side tables.
The company has more than 13 years of experience and has been a golden Alibaba supplier for over 12 years. The factory has 6 CNC laser cutting equipment, 6 designers, 15 qualified sales employees, and over 200 experienced workers. It has a 23,000 square meter footprint. Qiancheng can load 80*40HQ monthly and maintain 100% on-time delivery thanks to its amazing infrastructure.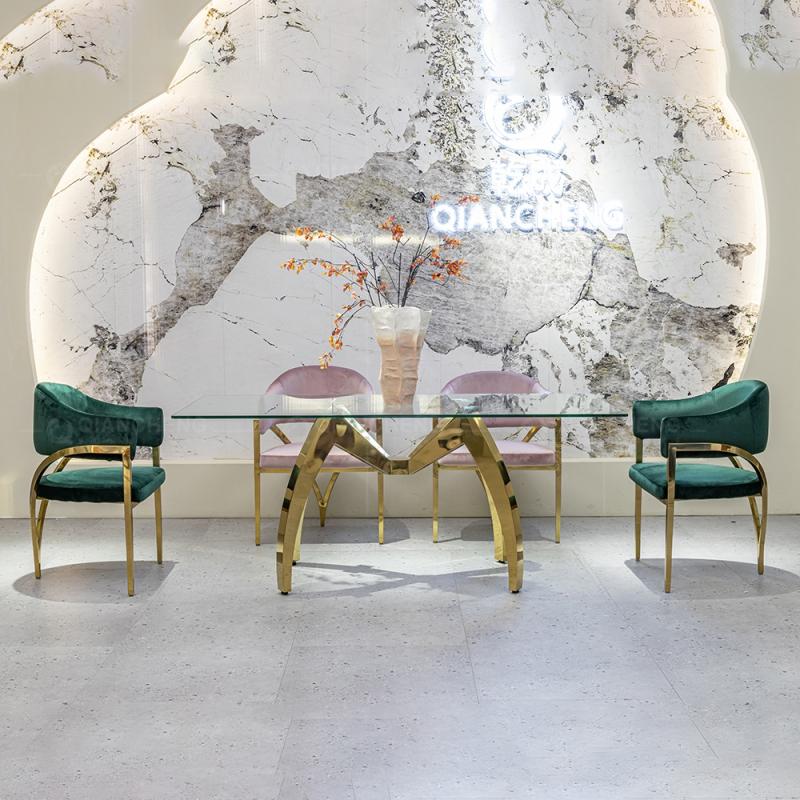 Meet All Your Needs with These Reputable top ten Chinese Dining Table Manufacturers:
Many dining table producers can be found in China, and each has a distinct line of goods to satisfy various clientele's wants. With various stainless steel dining and living room furniture goods, a notable manufacturer in this field is Qiancheng, among China's top ten furniture manufacturers. With various solutions to satisfy varied clients' needs, this company has established itself as a one-stop shop for all dining table requirements. Target customers for this manufacturer also include designers, restaurant owners, and project contractors. To provide its customers with trust and a guarantee, the firm has a strong team for R&D, inspection, sales, and skilled personnel with expertise. It also has finished equipment and a successful history of cooperative experiences.
The firm distinguishes itself from other producers of wood materials by using metal materials, notably stainless steel, for its dining table goods. Because of their increased durability and longevity, these items are perfect for use in commercial and industrial environments.
Furniture retailers sometimes need help with product variety, diversity of color, and size modification. With the ability to meet these problems, Qiancheng Furniture Co., Ltd can guarantee quality, realize designs, and provide a solid basis for brand marketing for its clients. The company's ability to produce large-scale orders with appealing lead times offers a cost-effective alternative for wholesalers.
Design of a Modern Dining Table:
Individuals and companies wishing to enhance their dining area are the target market for the Sku 2069 modern luxury dining table set from Qiancheng Furniture. These can include those that appreciate beauty, durability, and practicality, such as homeowners, interior designers, architects, restaurateurs, and hotels.
Finding practical and aesthetically pleasing furniture is one of the biggest challenges faced by those trying to update their dining area. They also desire strong and resilient furniture to survive normal use. Customers also prefer to buy furniture that fits inside their budgets.
The set has a contemporary design that skillfully combines fashion and utility. The surface is made of marble, stone, or glass, while the base is made of metal, stainless steel, or brass, offering strength and elegance. The table set fits into every home design concept thanks to the steel's various colors, including silver, gold, rose gold, champagne gold, and black.
Chinese manufacturers of dining tables: Qiancheng Furniture Co., Ltd:
Qiancheng Furniture Co., Ltd., a recognized dining table producer with over 13 years of experience, is based in Foshan, Guangdong Province. The business takes great pleasure in its original ideas, first-rate components, and superb craftsmanship. They provide a wide selection of dining tables, such as:
Modern Glass Golden Base on a contemporary glass dining table: The Modern Glass Dining Table with Gold Base by Qiancheng Furniture is a fashionable and functional choice if you want to expand your collection of fine dining furniture. This dining table is a wise investment that will dazzle whether it is used for domestic or business purposes. This dining table, made with both quality and style in mind, is a unique item that will amaze your customers and improve any eating area. The table is ideal for busy business environments like restaurants and hotels because of its tough and easy-to-clean tempered glass tabletop.
Manufacturers of Glass Top Stainless Steel Dining Table Sets:
China's top producer of dining table sets with stainless steel tops and glass tops is the Qiancheng furniture plant. From modern and minimalist to classic and luxurious, they provide various designs and styles. Glass Top Stainless Steel Dining Table Set Design Manufacturers is one such style. A contemporary and sophisticated glass-top stainless steel dining table set with multiple seating options, Sku: 2057 is ideal for any dining room, restaurant, hotel, or villa.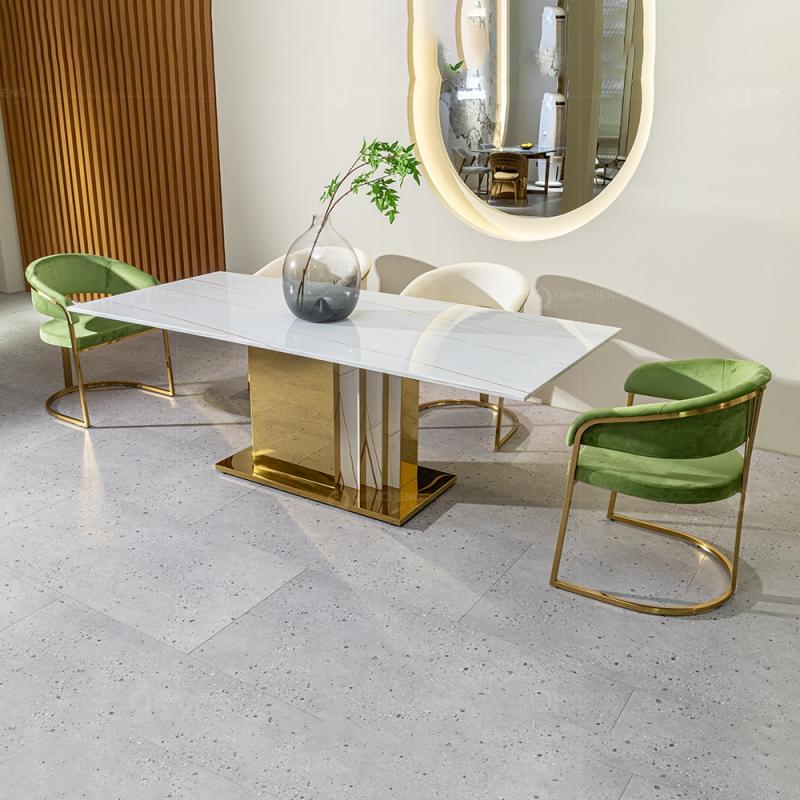 Six-person capacity artificial marble dining table with mirrored silver stainless steel frame:
But what if you desire a marble dining table's opulent appearance without paying an exorbitant price for your business projects? Artificial marble can help with that. A synthetic substance that resembles real marble is called artificial marble. It may be molded into several shapes and sizes and is normally manufactured from a mixture of marble dust and resin.
The top 10 dining room furniture producers in Foshan, China: Furniture Company Qiancheng has an impressive factory and successes:
The 23,000 square meter factory of Qiancheng Furniture houses over 200 skilled workers together with 6 large CNC laser cutting equipment, 6 designers, and 15 qualified salespeople. The firm has completed over 100 hotel engineering projects with a monthly load capacity of 80*40HQ. Over 100 nations are recipients of Qiancheng Furniture exports, with North America and Europe receiving most of them. With more than 95% of consumers returning for additional purchases, its goods have developed a reputation for quality and dependability.
Conclusion:
A reputable and creative producer of high-end China's top ten dining furniture manufacturers is Qiancheng Furniture. You may be certain that you're purchasing a high-quality item that will withstand the test of time by investigating the products offered by these recognized manufacturers. We have our equipment, methods, and a specialized material supply chain that can assist you in cutting costs while maintaining quality and on-time delivery.