Why the craftsmanship of Qiancheng Best Sofa Furniture Factory is worth discovering?
The best sofa for your house should be of the highest calibre. A sofa is, after all, more than just a piece of furniture—it's a place to relax after a long day, spend time with loved ones, and make enduring memories. Finding an honest and dependable couch furniture factory is crucial because of this. For many years, Qiancheng, a sofa furniture factory, has been setting the standard for quality. We have established a reputation as the top company in the industry because of our dedication to superior craftsmanship and creative ideas.
A Passionate Traditional Legacy:
A steadfast love for creating furniture that has been passed down through the generations is at the core of Qiancheng Best Sofa Furniture Factory. Established by a creative craftsman, our firm has remained loyal to its founding principles by emphasizing attention to detail and workmanship in all of our productions. The local craftsmen dedicate our lives to honing abilities and perfecting our trade; we are more than simply employees; we are torchbearers of a revered legacy. Every piece of furniture that leaves the production floor is infused with this feeling of history and pride, making each piece a classic artwork.
Innovation Meets Art:
Qiancheng Sofa Furniture Factory embraces modernism and innovation while maintaining its heritage. The artisans expertly combine traditional methods with current design features to create furniture that emits traditional beauty and contemporary sensitivity. Every step of the production process, from the deftly hand-carved wooden frames to the painstakingly sewn upholstery, demonstrates the ideal balance between creativity and innovation.
Handcrafted Excellence:
In a time when mass manufacturing and mechanization are common, Qiancheng Sofa Furniture Factory stands out as a champion of fine handiwork. The masterful artisans put in endless hours of effort while using our expertise to bring raw materials to life. No two sofas are the same, giving each one a unique personality. Each couch is a one-of-a-kind creation that resonates with the soul of its maker and the spirit of its surroundings, thanks to the attention to handcrafting.
The Importance of Material Choice:
The strict criteria used in material selection are at the heart of Qiancheng Best Sofa Furniture Factory superior craftsmanship. The best materials are the only ones that make it into the hands of the artists. Every component is carefully selected for quality and sustainability, from the best and premium textiles to ethically sourced wood. The outcome is a stunning couch demonstrating the factory's dedication to environmental responsibility.
Why choose Qiancheng Best Sofa Furniture Factory?
It's enlightening to discover a hidden gem like the Sofa Furniture Factory in a world where mass-produced goods predominate. Our company is located in a small town with a long tradition of craftsmanship. It has long been a symbol of the highest standards of craftsmanship and quality in the furniture industry. With decades of history, Qiancheng Sofa Furniture Factory creates sofas that go beyond simple furniture. It has earned a well-deserved reputation for transforming living rooms into opulent sanctuaries. 
Observation of Details:
Even the smallest details may transform a piece of furniture from ordinary to remarkable in furniture creation. Every detail is a little at Qiancheng Sofa Furniture Factory to be noticed. Artists carefully hand select the final touches. Such as beautiful trim and delicate stitching, adding a touch of sophistication to their masterpieces. Because of the constant attention to detail. The factory sofa exudes a unique and elegant elegance.
Increasing Comfort:
The comfort of the end users is equally important to Qiancheng Best Sofa Furniture Factory as the importance of aesthetics. The craftspeople ensure that each couch offers the maximum comfort and support by carefully balancing design and ergonomics. Our factory's dedication to comfort guarantees that our sofas become an enticing haven to rest and relax, whether with a velvety seat cushion or a smartly constructed reclining mechanism.
An Individual Touch:
Beyond the fine artistry and meticulous attention to detail, Sofa Furniture Factory stands out for its commitment to providing a customized experience. Every stage of the production process considers each consumer's distinct preferences and treats them with love and respect. In addition to fostering long-lasting connections with customers, our personal touch ensures each sofa becomes a prized possession for them, full of sentimental significance.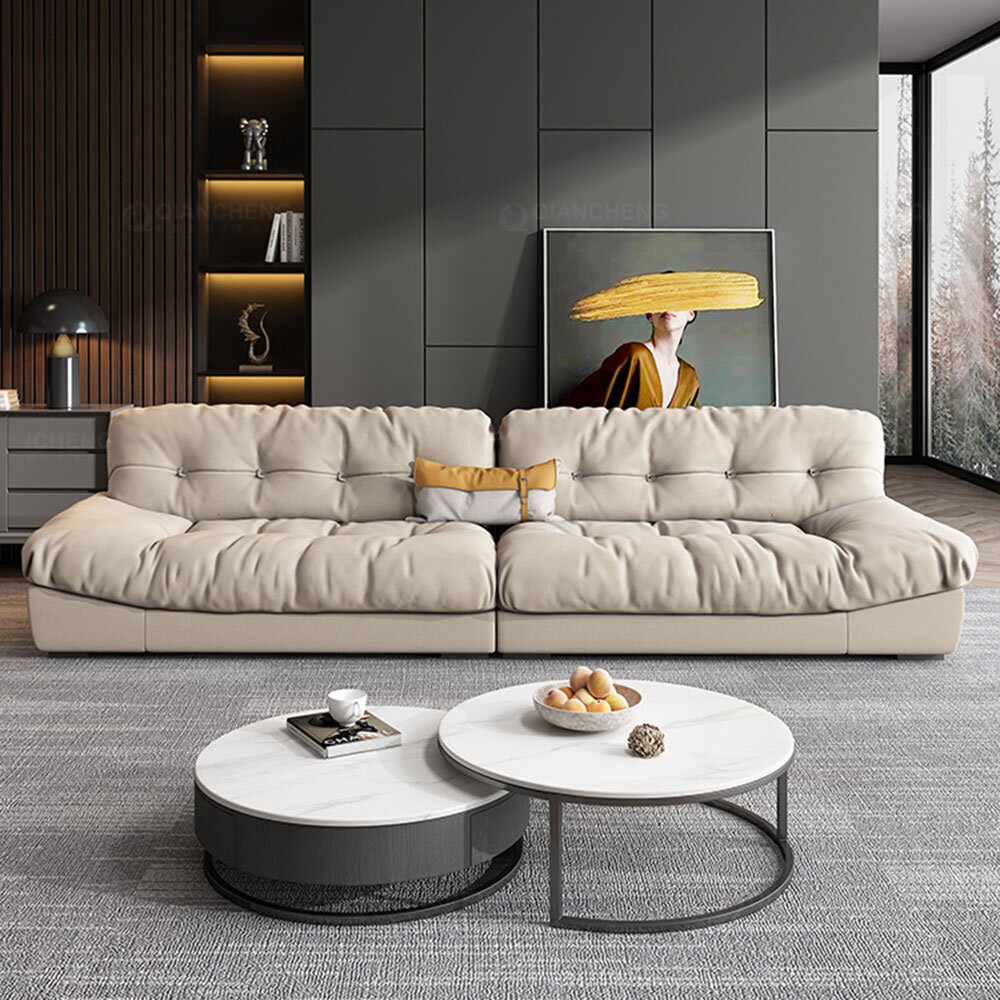 Is Qiancheng Best Sofa Furniture compatible with interior design?
The design approach of Qiancheng Best sofa furniture is flexible and classic. Making it a great addition to any home decor. Whether your interior taste is traditional elegance, modern simplicity or eclecticism. Our sofas blend perfectly into any environment. Talented artisans in the factory craft each product with meticulous attention to detail. Gives the sofa an exuding sophistication that goes well with both classic and contemporary homes. The line of sofas by Qiancheng offers an aura of grandeur and sophistication to individuals who taste opulent living environments. In contrast, our streamlined and clean designs blend naturally with contemporary décor to provide a trendy, uncomplicated atmosphere. Qiancheng Baishida Sofa Furniture Factory offers a wide range of upholstery fabrics and finishes. Going a step further to ensure our sofas blend easily into the home's current color scheme and textures. We're a solid choice for the discerning homeowner because we have a wide variety of styles that coordinate with any home decor. Whether you're looking to enhance a cozy family room or create an attractive center point in a formal living space.
Conclusion:
The QIANCHENG Best Sofa Furniture Factory is a tribute to the lasting beauty of workmanship in a world of fads and throwaway items. Our couches are more than simply pieces of furniture because of our unrelenting dedication to sustaining the greatest quality standards, incorporating innovation, and conserving heritage. We serve as remembrances of a heritage, a synthesis of art and utility, and representations of the devotion and emotion that went into their making. It is a timeless trip into the heart of real creativity to witness the workmanship of the Sofa Furniture Factory.